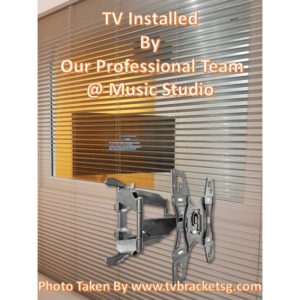 TV brackets in Singapore are the new trend in the market because of multifarious reasons. With so many of us, keen on interior décor, a TV bracket fits into our needs of what a home should look like.  It is also called a TV wall mount that holds your TV in place and fixes it on the wall with no additional, space-occupying support.
With a host of options available while buying a TV bracket in Singapore, we give you a small guide of tips and tricks on TV bracket installation in Singapore. Here are the things you should keep in mind:
Look for a TV bracket that has the capacity to hold the weight of your TV. If you have a heavyweight TV, you might consider buying a heavy-duty TV bracket that can bear that weight of TV's about 65 inches. You do not want to break your TV!
There are various types of TV wall brackets as well, so decide which kind you would want. A smart trick is, to first figure out the interior of your house, and then decide where you want the TV to be placed. This will make your job easier.
Placing the TV bracket away from direct sunlight is something you might want to consider.
While you might be a fan of articles of home decor, do not put anything in the way of the TV and your seat.
Placing the TV bracket at an appropriate height is important to avoid strain on your body while watching the TV.
You might want to change the setting of your TV in the future. Opt for a TV bracket that will not leave cracks or damage your wall.
Although the installation of a TV bracket can be done by adults at home, we suggest you ask for the help of a professional if you do not feel too confident about doing it yourself. Some people tend to get intimidated by the drilling process.
If you constantly keep changing your position, you might want to buy a full motion TV bracket which gives you the flexibility to swivel your TV in any direction. This will help you in the long run.
Keep the installation guide handy which comes with every bracket and read it carefully, as, every TV bracket might need separate installation techniques. We hope this guide was useful to you.