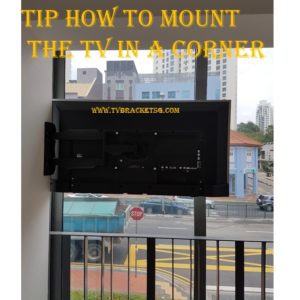 Sometimes it is good to think outside the box and come up with some creative ideas rather than conforming with the norm. TV placement has evolved so much from the traditional stands to mounting. Creativity didn't stop at that, people have found that it is great mounting the TV over the fireplace, some like it naturally fitted against the wall, but today, we are going to talk about mounting the TV in a corner using the best tv bracket in Singapore.
First, the mounts have brought about a lot of convenience in terms of our space arrangement, not to forget that they are magically flexible and this is where mounting a TV in a corner comes into play making it the perfect solution for most problems in the house.
Naturally, corners may not come immediately to the mind when thinking about mounting the TV, however, they are actually great space-saving solution especially where the room is small. Like we have covered in our previous posts, mounting a TV is not hard, also with the corners as you will be mounting the TV to the studs that are near the corner. This way, you will have a sturdy foundation for the mount. Once that is done, using a swivel mount you can then swivel the TV so that it looks directly in the corner.
Having the corner covered
Using the full motion mount, it will allow you to tilt, to swivel or even extend the TV in any direction that you'd like. TV Brackets in Singapore has all the tools and the tips to make the installation process move on perfectly. Installing the mount in a corner has also some challenges. The first one being, finding the right full motion TV mount with the right arm extension. Secondly, positioning the wall plate of the TV mount is the right distance from the corner of the wall so your TV fits perfectly in the corner has in many times proven to be a problem for most people.
Determining the angle to position the TV
The most installer will hang the TV at a perfect 45 degrees in the corner of the room. While this seems to be working for most people, it might not actually work for you and at times, your sitting might be off to one side from the corner, making the usual 45-degree undesirable. Using an AV-Express corner TV wall mount will help you fix this problem by allowing the full motion and swivel movement of the TV at up to 90 degrees to the wall.
Once the Tv has been mounted on the corners, the next step is to hide the ghastly cords that are left hanging. We have covered that in a different article. Check out our blogs for more information.