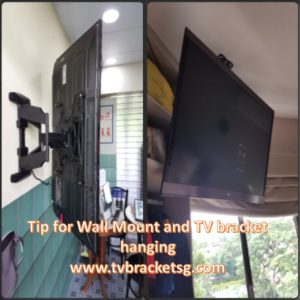 If you have a plan to mount your TV set at your home on your own, there are unsure things that you must need to know before you start doing this. In this article, you'll get all the necessary information about wall mount and TV bracket hangings. This information will help you out in hanging your TV without any hassles and maximum output results.
Some of the companies like TV bracket in Singapore help you out by installing your TV bracket at an affordable price perfectly. They have trained professionals and they know how to properly install your TV bracket without any damages and hassles. Safety is an important factor and they know it better than you because they have experience in this field.
Let's start to explore some tips you need to know before you start mounting your TV bracket on your own.
Choosing The Right Type of Wall Mount
First of all, you have to choose the right wall mount for your TV. There are plenty of wall mounts are available depending on the design and size of your TV. This step is so important and you have to pick the right type of TV bracket and this can be done by a trusted company like TV bracket in Singapore because you don't know about how to choose the wall mount for your TV. They have experienced staff and they will do this task in a very low and affordable price you don't need to mess with the installation process.
Choosing the wrong type of wall mounting creates problems in the long term and may damage your TV by falling down, etc. TV bracket Singapore trained staff inspects your wall and TV and decide which type of wall mount is best suits your TV.
Position of Your TV
The second most important thing, the position of your TV. Consideration of your TV position and height is so important to keep in your mind before you select a wall mount. Distance from the TV when you are watching is also important as well the proper height of your TV is also an important point.
Height of your TV is so important factor. Keep height factor in mind because if you don't set in on a proper height it will create an impact on your vision and neck too. Hiring a technician from TV bracket Singapore is a good idea because they know exactly where to set your TV. They will install your TV at a very affordable price and save your time and hassles you face while trying to do this on your own. So leave this complex installation process on TV bracket Singapore and enjoy watching your favorite TV shows.
The Design of Your TV
The ultimate design of your TV is also very important. There are too slim and too bulky TV sets are available in the market. Always keep your TV design in your mind because if you choose a wall mount that is too low quality it can't handle the weight of your TV and may fall down and damage your TV. If you have no idea that which type of TV bracket is perfect for your TV contact TV bracket in Singapore and they will do this job perfectly for you. They make sure the safety of your TV and make sure it lasts for a long time.
It seems easy to mount your TV on your own but when you start the installation process you fell many problems it's better to hire a professional. There are many companies but TV bracket Singapore is a registered company with a proper license. Hiring a non-professional and non-registered company is a bad idea they ruin your TV installation process.
Conclusion
If you are planning to install your wall mount at your own it's not a bad idea. But you can do this by hiring a professional from TV bracket in Singapore at an affordable price. Your TV is so expensive and you don't want to broke this by falling down due to the wrong installation. TV bracket Singapore have years of experience in this field and they know the pros and cons during the installation process.
TV bracket Singapore is a registered and professional company and knows better than anyone how to install a TV bracket properly for a pleasant watching experience. Some people try to do this on their own but face many problems during installation and waste a lot of time, in the end, they need the help of a professional. This is better to save your time and hire a professional for this task and save your time and energy.