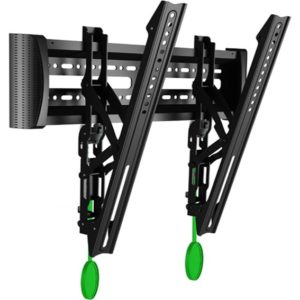 This is another TV Bracket in Singapore that I would like to describe well into detail as it represents simplicity and class at the same time. Mostly it's used at homes where families have their regular time together and positioned well according to the design and layout of the room in mind. Before describing it better it's good to know its features and get to know how each creates an element of simplicity and elegance at your home, office, hospital or even in dining halls for students to watch as they eat as that's what each person likes.
These tilting mount goes hand in hand with TV sets that range between 23"-55" and with a maximum weight of 40kgs and most of these mounts are compatible with all designs and also it also contains a faceplate which also accommodates a VESA mount.
The safety feature of these tilting mount is that they can actually carry four times the weight they are rated in accordance with the UL standards. That means with its strong steel make up material, there's no need to worry of the TV falling from its place and its locking system which has a quick release makes the tilting mount stand out well.
This tilting Mount also does not have any complications in installing it to your wall whether it's a plastered wall or a stud wall and in getting rid of the irritating glare while watching you just tilt the TV forward or backwards 7degrees each  time to your taste.
It also gives the room a sleek appearance in that it puts your TV only 1.2" away from the wall; hence the Elegance of the room is not camouflaged at all.
With most suppliers the product comes along with up 6ft HDMI cable and even a magnetic bubble level, and with the wide plate the tilting mount becomes a simple but classy amount.
Hence in recent times the tilt mount has become part of our living rooms as it brings some aesthetic qualities along with it, and nobody wants to leave their sets on the stand as that's not flashy or catchy at all. And in most instances putting a flat screen on a stand is not comfortable at all as risks being knocked over and eventually get damaged.
Lastly before getting one of these, try and visualize your design and how you would like it installed and where so as not to ruin the fun.