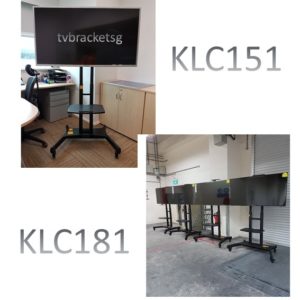 Are you looking for mobile stand with solid modern look for your TV? Look no further than TV mobile stand KLC151 or KLC181 from TVBracketSG Singapore. The height is adjustable, they are very solid with modern look, and they are very suitable for either home or commercial use.
Why Choose TV Mobile Stand KLC151 and KLC181
There are many reasons associated with buying TV mobile stand models KLC151 and KLC181. Read on to know the benefits of these stands.
Steel Constructed and Well-built
This stand is particularly built from high-grade steel sheet material that will last for a very long period. With these TV mobile stands, you can be assured that your TV will not fall when you are moving the stand around your home. The sturdiness of these stands is just extraordinary. They are suitable for mounting nearly all 23″ to 60″ HDTV flat panel, LED, and LCD Televisions.
TV Mobile Stands are Safe and Practical
These mobile stands are easy to move, and can be used in several places such as delivery shopping malls, conference rooms, workplaces, or other spacious rooms.
TV mobile stands showcase incorporated cord administration system and securing wheels to make sure that your tools stays neat and safe.
Angle-adjustable
When it comes to viewing angle, these mobile television stands can give you a great viewing angle. You can rotate the installing brace forward and backward by almost 20-degree. In addition, the part that changes the angle is small style, and not loose or too tight.
TV Mobile Stand Singapore Saves Space
The layout of the mobile stand is structured stamping, very attractive, and conserves space. It comes with a height-adjustable glass rack to display magazines, DVD players, gaming consoles, and also other small items.
Top Quality Item in all Ramifications
TV mobile stands from TVBracketsSG are manufactured of heavy duty steel. They are well machined, and will take care of your level screen without problem. This product is easy to assemble and your TV can easily be readjusted even when set up. The wheels rotate on sphere bearings and roll over carpet quickly.
It is VESA compatible and will adapt to nearly all the available flat screens. The LCD display of the mobile stand is sleek and will match in nearly any environment.
Take a while to check out for our TV mobile stand products at https://www.tvbracketsg.com/tv-mobile-stand/  
We are the best supplier of all kinds of universal TV Brackets and provider of excellent TV mobile stand stands sales and installation in Singapore. No other supplier has a product line-up that contains so many different types of products like us.
Our product line-up includes:
(1) Fixed Brackets
(2) Tilting Brackets
(3) Full Motion Single Arm Mounts
(4) Full Motion Double Arm Mounts
(5) Ceiling Mounts
(6) TV Table Stands
(7) TV mobile Stands
(8) Gas Strut TV Mounts
(9) Gas Strut Desktop/Monitor Mounts
If you want to buy television mobile stand from TVBracketSG, all you need to do is to go to https://www.tvbracketsg.com/contact-us/ or Call / SMS / Whatsapp : +65 9183 7250. You can also send an email to: enquiry.tvbracketsg@gmail.com