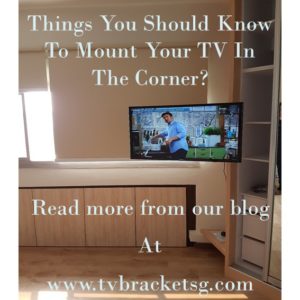 Are you wondering if mounting your TV in the corner is the right choice for you? Well, it's definitely one of the best solutions when you don't have a lot of free space in your room and you want to expand your viewing angles.
Now, before buying a TV bracket Singapore there are some things that you should know.
You should make sure that the mounting bracket you're buying is appropriate for your TV; you should check if the weight support is sufficient for your television and you must also know if your TV supports VESA standard.
If you want to, you can mount the TV mount onto the wall yourself. However, it's not recommended if you do not have the required experience. But if you think you have what it takes, here are a few steps that will help you throughout the way.
The first step is to remove the base of the TV, and on most TV's that's easily done by removing some screws.
Next, you will have to attach the mount to your television; you should follow the instructions that come with your TV mount.
Now, before placing the TV in your preferable place, you should make sure there are no wooden studs, metal studs, pipe or wires in that place of the wall. There are a few devices you can buy that can help you with that. Now that you know which places of the wall you have to avoid you can proceed to the next step.
After you've made the required measurements, you can drill the bolts in the wall for the attachments and mount the TV mount onto the wall.
However, as mentioned before if you feel this is too much for you and you don't have enough experience with stuff like this, it's highly recommended you get professional help. A really recommended website is tvbracketsg.com. It does not only sell TV bracket Singapore but will also properly install it for you. They're a professional trusted company and they have six years of experience.
The installation is fully taken care of and it's included in the TV bracket price. So if you're looking to buy a TV bracket Singapore you should really consider checking out their website https://www.tvbracketsg.com/product-and-services/ .
One of the best things about this company is that it offers different types of TV mounts, you can buy fixed mount, a tilting mount, a full motion single arm mount, a ceiling mount, a gas strut ceiling mount, a full motion double arm mount, a TV table stand or a TV mobile stand. They come at different prices as well, so you'll definitely find one within your price range.