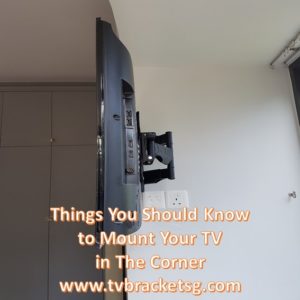 Mounting your television is a perfect idea if you want you and all the viewers to enjoy the movie and show and feel comfortable while watching the television. Television is one of the important things you need to have in your home.
But the real deal is, how can you mount the TV especially if you plan to place it in the corner?
That's why TV Bracket in Singapore is here to help you. It is a company which sells anything related to TV and mounting services. And surely, it will provide you the best TV service in Singapore.
How Can TV Wall Mounting Improve the Viewing Experience?
We all know that watching a television that is wall mounter is way better than televisions who are placed in TV stands. Upgrading into a brand new LED or smart TV is great but if you do not have extra cash to do it now, you can just enhance the viewing experience. In fact, wall mounting your television is a great way to start with. Just hire a company who can handle this installation like TV Bracket in Singapore. Here are the most beneficial and important things that television mounting can provide:
Wall mounting the television simply enhances and improves the design of your house or space. If you mount your TV, you do not need any table or even a table stand to use. And truthfully, your TV will be catchier for your visitors.
Mounting the TV on the wall may get the optimal angle of the viewing experience of the viewers. Generally, if you choose to wall mount the television you can get the perfect angle and improve to a better viewing experience. It is all up to you if which part of the wall you want to place your TV and figure out the perfect spot on your own.
Choosing to wall mount your TV means you can enjoy watching the television without any disturbance around it. Furthermore, if you are with children in your household, it is safe for both the TV and children.
Things You Need to Know If You Choose to Mount the TV on the Corner
If you don't have much space in your house, and the corner is the only option you have to put your TV, then it's fine. There is a specific mount you can find at TV Bracket in Singapore which you can use the wall mounting your TV in the corner. Here are the things you need to know if you'll place the TV in the corner:
The perfect wall mount to use is the full-motion TV wall mount. But first, you have to check how high you are going to place your Tv. Simply because it will affect the comfort while watching the TV.
You have to place the television on the eye level because you don't want to make your neck croon while watching.
Carefully choose which product you will use if you will mount your TV in full motion.
Wall mounting the TV in the corner is easy. There are also several products to choose from TV Brackets in Singapore. Make sure to also hire well-trained and professionals to install your televisions to ensure safety, durability, and peace of mind.