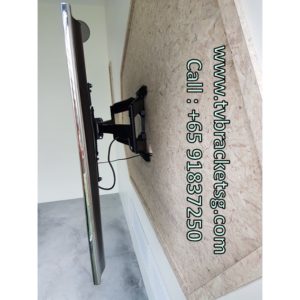 Things to know before you mount your TV
Most of the people admit that they watch TV in bed. With modern looking flat screen TVs, would you like to have a TV in your bedroom? If so, then you have to keep in mind certain things before you actually decide on this impressive idea.  Here, four things you need to know before you mount your TV in the bedroom.
Go with the idea
It is not a bad idea to have a television in your bedroom. You can watch TV very comfortable from your very own bed. Actually, it is a smart move for various practical reasons. You can watch headlines or weather updates while getting prepared for the work. On the other hand, you can watch anything on your TV if you happen to have small children.
Consider the TV size
While planning a TV for the bedroom, you have to consider the size based on the distance of the bed from the wall. A Small screen will work great for watching morning headline but if you want to enjoy movies on a bigger screen then, go for it. With a perfect full-motion wall mount, you can even bring your small screen TVs closer to your bed.
Look for a perfect layout
You have to decide on a nice place to mount your TV on the wall. Most people consider putting it at the foot of their beds. However, you can choose the best location based on the layout of your bedroom.  It depends entirely on the shape and size of your bedroom area along with the arrangement of the furniture.
You can even opt for a corner mounting of the TV to cover up an unused area. While mounting the TV on pedestal stands the right choice.
Height of a wall mounted TV
Height is another factor that you have to decide on while thinking of mounting a TV in your bedroom. The ideal height of mounting does not remain the same for both living rooms and bedrooms.  In a bedroom, it is better to mount your TV a bit higher than the line of sight. You can take the help of professionals like us to determine the perfect height of mounting the TV bracket in Singapore in a bedroom.
Now, mount the TV in your bedroom with our professional mounting services. It is best to go with professionals as they could suggest better things for a better viewing experience.