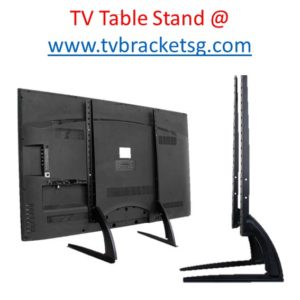 The traditional home set up always had a place for the television stands as the focal point for the room. It is where all the attention was directed and surprisingly, that traditional sense has not lost its touch in peoples minds. There are people who prefer working with television stands rather than the mounts. Essentially, mounting a television mount on a wall is not that easy, it requires a lot of work and time, something you might not be having. Therefore, rather than going all through that trouble, a television table stand should suffice.
Tv bracket Singapore is a company that specializes in everything television, from mounting to installation. The company was established in 2012 and apart from installing television mounts, it also sells quality, and affordable mounts, brackets, desktop monitor mounts and Television stands.
Table stands
Unlike the common stands, the television stands are designed specifically for the television. Tv bracket Singapore recommend these stands as they are ideal where there are children in the house. With the shelving option, you will be able to keep most of the electronic devices out of the reach of children which lessens the likelihood of electric related accidents. If you look at mounting option, when done unprofessionally, you will have a lot or wires dangling all over the place which increases the risk of electric shocks.
Again, tv table stands offers practicality for the viewer and also, aside from that, the addition to the viewing height gives a cinema experience in the room. Table stands also enhances the room appearance giving it a minimalist touch. Other than that, with a table stand, you can be sure that your children are being taught to have a good sitting posture while watching the television.
Compliment every part of your décor with Corner stands
Just as the name implies, there are television table stands from TV bracket Singapore that are designed to be used in the corner of the room. They are usually taller than the normal table stands and come in various styles and shapes and colors. As with most table stands, the real advantage, aside from providing a good placement of the television is that corner stands really compliment the surrounding décor with their wonderful curves and a slick design.
You will find that in most homes in Singapore, corner table stands, and in general, the table stands themselves have gone beyond being a placement for the television and will not only compliment the interior décor of the home, in some cases, they act as the centerpiece of the whole layout of your living room and creates an attractive set up for a home entertainment theatre.
Keep everything organized with a table stand
Most homes today enjoy owning more than one television and, in most cases, the second television is often set up in the bedroom. In addition, it has become practice for most households to watch the television before sleeping. However, most bedrooms do not have enough space for a television, here mounting becomes a viable option. Tv bracket Singapore suggests since mounting the television might be an expensive undertaking, and given the fact that other bedroom furniture may not be ideal for your television placement, use a table stand.
A bedroom is a relaxing environment and without proper mounting, it would be irritating and chaotic, however, using a tall television table stand, that could be very ideal for your television. Other than that, it saves a lot of space and goes along way to compliment your décor by transforming your bedroom with its beautiful presence. Again, unlike mounting, you can move the television easily to suit your watching preference.
Conclusion
When choosing the table stand, make sure that you get its dimensions first and also the dimensions of the place that you intend to place the television. It is not unlikely to purchase the television only to find that that it won't fit the place you intended to place it. Other than that, some other considerations to make include the price and what other purpose the television table stand will serve. If you need quality and affordable stand, check out Tv bracket Singapore store for the best stands