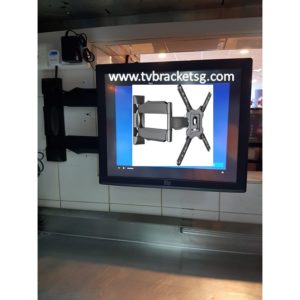 TV bracket Singapore mounting and installing needs know-how, experience and know-how, proficiency, and this is what TVBracketsSG is proud to have. We have succeeded in mounting numerous TV brackets in Singapore in our almost seven years in the industry. We comply with the 4P Principle at TVBracketSG. This is one of those things that make us incomparable in TV mounting company in Singapore. 
What is this 4P Principle of TV Brackets in Singapore about?
People
We have a team of locally oriented, trained and well-equipped technicians with years of experience in TV bracket installation. These people are always trustworthy and steadfast.  As a result, you are guaranteed that you will get the best and quality workmanship you are longing for.
This team of technicians has been carrying out sophisticated installations in commercial applications for quite a long time. Therefore, a TV bracket Singapore or Mount in your home is a simple job for them. These experts are knowledgeable and will make sure they take care of your wall or decorations in order for it not to get damaged in the course of the installation.
2. Professionalism
We offer professional advices to our customers.  Since founded some years back, we have been suggesting to our customers on choosing the best and the most appropriate TV bracket or TV floor stand to satisfy your individual needs.  We know that the needs and expectations of all customers are not the same.
In client's advantage lies our pride, meaning that our business intention is not totally for profit. One peculiar thing with us is that we don't charge customers too much, while we give clients logical suggestions about our product(s).
3. Price

We make sure we give competitive prices and fees chargeable by us are realistically adequate.  TV brackets in Singapore for home use are inexpensive including our fitment charges. Moreover, you will value the quality of work carried out by our specialized team. In a nutshell, all our products and services have good value for money with different requirements and different quote prices.
4. Product
The TV brackets and TV floor stands from TVBracketSG are of high-quality and long-lasting.  Furthermore, products from our company are proven secure for both residential and commercial purposes.
All our TV brackets in Singapore, TV Mounts and TV Floor Stands are produced from good quality SPCC steel. They are light and high strength steel to carry the weight of your television. Most importantly, all our TV brackets are VESA accommodating. We update our product line with most recent products and technologies.
5. Final Thoughts
Despite the fact that there are a lot of companies dealing in TV brackets Singapre, none of them can match the status of TVBracketSG. We have technicians with many years working experience we have garnered over the years. We respect the 4P Principle (Product, Price, People and Professionalism) and will give the best and affordable prices on all our products and services.
Although we are not the cheapest, we are not the most expensive either. However, our prices will look competitive to you, particularly when you compare the inferior quality of products from our competitions.
Therer is no other supplier has a product line-up that have a lot of different types of TV Brackets, Mounts and Stand in Singapore. Our product line-up includes:
(1) Fixed Brackets
(2) Tilting Brackets
(3) Full Motion Single Arm Mounts
(4) Full Motion Double Arm Mounts
(5) Ceiling Mounts
(6) TV Table Stands
(7) TV mobile Stands
(8) Gas Strut TV Mounts
(9) Gas Strut Desktop/Monitor Mounts
Contact us today for enquiries and questions concerning our products and services!