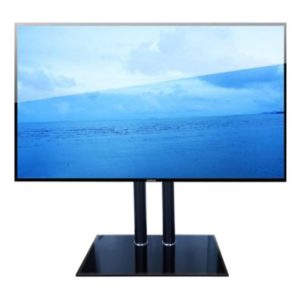 Television has become one of the integral items that help families come together for entertainment. This varies from different programs to purpose of watching; like with the kids and the family cartoons and online learning programs are very resourceful in the kid's life. This also goes for those guys who seek to have information on different aspects of the global affairs. In that line some of the people have really given the comfort of watching a first thing in their houses, classes or offices. This is because they want to reduce the health risks associated with watching TVs all the time and in awkward positions which later can bring some physical complications due to straining.
Therefore, this stand is one of the aids in making the homes a better place for watching television and enjoys the little time you have. This is due to its makeup and adjustments to make it user friendly in any particular situation as it is stable.
In whatever the angle that one is this top mount tv table stand in Singapore is adjustable to suit your position as it has a considerable height that suits the adjustments and reduce straining the neck or your body in general as you try to get hold of what is on display. For the gamers or those who operate studio apartments all you might need is a bean bag, bed or simply your floor as you rest on the mat; as its height serves right all the angles and positions of which you want to watch from. And the gamers can have a fair play as each player will be comfortable in controlling their subjects from your positions as you could have adjusted the height of the stand for the two players.
Let alone comfort-ability, the stands also come in place with a universal bracket that can fit/hold any television well into position without going out to find a stand which is compatible to your television set. With its well built body makes it possible to hold TV set of all weights up to 80pounds, this leaves you with less to worry as it cannot fall and damage anything.
Putting in mind that it's placed on the table makes it also easier for installation and usage in a simple way plus space for the gaming console as you can raise the height. Not forgetting its aesthetic finish that makes also the living room look good and holding the cables in place hence no fear of tripping or being electrocuted.