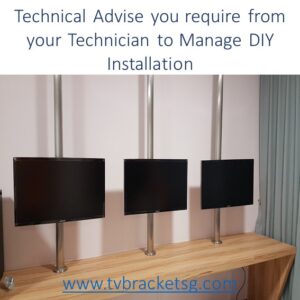 So, you're thinking about mounting a television by yourself? Whether this is due to a recent move, a home renovation, or you have simply purchased a new device, this needs to be done correctly to avoid any issues either now or down the road. But there are so many different mounting systems to choose from. How do you know which is the best?
TV Brackets in Singapore offers a wide range of high-quality mounting systems as well as television stands. This includes fixed mounts, swivel and tilt mounts, full motion-single arm, full-motion double-arm, tv table stand, ceiling mount, gas strut tv mount, gas strut desktop, and a convenient mobile tv stand. These have a compatibility rate of 99% of all televisions. Choose one of our stands and you won't have to worry about the quality.
The Benefits of Mounting your Television
Why should you use a mount in the first place? Not only will this help to make your area clean and less cluttered, but you will also be able to ensure that you get that perfect angle at just the right eye level. This isn't as easy with a stand as you will have to shop around to find one that is already built to the right height.
By having your TV mounted up on the wall you can also help to save it from any unfortunate damage, provided you can achieve the mount without causing any.
Installation of your Device
Installing our brackets looks easy. Simply drill into the wall, hang up the mount and slip your TV on, right? Wrong! There are so many ways in which this can go wrong. The last thing anyone wants is for an accident to occur where your system falls off the wall, damaging the TV and possibly causing injury as well.
Do you have any idea how you intend to conceal those unruly cords so that they aren't cluttering up your space? What about the tools needed? Do you have everything to do this yourself or do you need to go out and purchase everything?
For the best results, our professionals use the following:
A stud finder to ensure the mount is solid and not just clinging to the drywall
Masonry drill bit for creating the perfect holes in the wall
A power drill which is much quicker and easier to use than just a screwdriver
A level to achieve the correct angle
Easy to see sellotape to prevent marking up any walls with pencil marks
High-quality TV Bracket in Singapore
You need to take into consideration so many different aspects such as the style of TV, the size, what kind of mount is needed and best suited, as well as where would be the best place to mount it. Don't forget to locate those wall studs before you start to drill any holes.
TV Brackets in Singapore guarantees that we will make this look easy as can be due to our experienced installation professionals. You will not need to worry about any repercussions from this not being solidly secured to the wall. The ease of mind that you will be entitled to will pay off in the end.
We will take care of all of the hard parts by determining which mount is best for the job as well as provide insight on locations. This may seem simple but many people make the mistake of mounting either too high or too low on the wall. This can result in neck pain from craning to look at your screen. If you choose to move it, you now have holes in the wall that will need to be filled.
Let our professionals save you the headache by doing this correctly in the first place.
Why Choose TV Brackets in Singapore
TV Brackets in Singapore has been a trusted company for more than 6 years. Not only are we registered but we also strive to perform up to the customer's satisfaction. Our high expectations have prompted us to adopt the four p's-professional, products, people, and price.
We take extra care when handling your device so as not to cause any scratches or other damages either to the television, walls, or any other area of your home.
Our promise to our customers is for a stress-free experience at an affordable price with only the latest and greatest equipment being used. We offer protection insurance should anything go wrong even after we have completed the installation and moved on. We will provide you with the best possible products to fit your specific space, needs, and style of TV.
Visit our website at https://www.tvbracketsg.com/ for more information or to fill out a contact form. You can also email us at enquiry.tvbracketsg@gmail.com or call +65 9183 7250 to book your consultation.