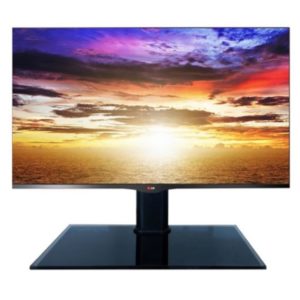 Watching television has never been more popular. From sports, to movies and cartoons, television series and news, the television has become a major source of entertainment and information for millions of viewers around the world. This is why a lot is being invested to make watching television not only more enjoyable, but also more comfortable and safer. This is because watching television has been noted to bring about physical health problems on the user, such as strained eyes and back aches, mainly due to the positioning of the screens. However, all this has changed due to introduction of ergonomically designed television stands.
The table top mount stand is a television stand that comes with various features that make television watching way more comfortable. It is not only stable; it allows the user to adjust it so as to suit the needs of that particular user for a particular situation.
The height of the table top mount stand is adjustable so that you are able to view the television from numerous angles. This helps reduce strain especially on lower back and on the neck whenever you are trying to adjust to get a better view. The adjustable height also means that you are able to view the television whilst on the floor, on your couch, or even when standing. This is useful especially for those who game using their television screens. By adjusting the height, you are able to provide a comfortable viewing angle for both players (that is if you are on two player mode.)
The table top TV mount stand also comes with a universal bracket that allows you to fit a wide variety of television sets on the market. This means that you are able to use it with your current television set. It can also support weight up to eighty pounds. This means that you can watch television without worrying whether your television set will fall whenever there is an explosion.
The fact that the stand can be placed on a table top means that it makes setting up your television space simpler. Raising the television set also gives you enough space for your gaming console (for those who game), or your decoder.
Finally, universal tv table top mount stands in Singapore come with an aesthetic finish, meaning that they will add some sort of coolness to the room. With special features that help hold the cables in place, the risk of you tripping or getting electric shock from stray cables is highly reduced.