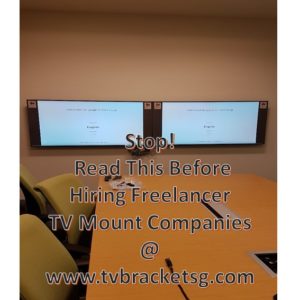 TV wall mounting offers additional benefits and convenience – and it is no surprise why it is popular in Singapore and many parts of the world. In Singapore, wall mounting the television is the best thing you can do with your newly-purchased TV. However, there are two different ways to mount your tv bracket in Singapore. The first one is to hire a TV mount company and the second one is to wall mount it yourself.
Given the fact that tv bracket in Singapore is quite popular, there are many tv mount companies that offer such service. One of the top-rated tv mount company is the TVBracketSG. With its years of experience in this industry, your television will be in good hands.
Wall Mounting Your TV Using TV Bracket in Singapore
TV wall mounting is simply putting or hanging your television on the wall with the use of durable and sturdy TV bracket in Singapore. However, before using a tv bracket, you must know its different types, the things you need to do and don't, and the factors you need to consider. TV wall mounting must be done carefully because the safety of your TV depends on it. Generally speaking, you should not do the installation on your own without enough knowledge about the process. It is safe to hire a reliable TV mount company like TVBracketSG to ensure safety and security of your television.
Questions to Ask the Freelancer TV Mount Company
If you are planning to wall mount your television through hiring a freelancer tv mount company, then you should be aware that knowing the freelancer first is the first important thing you have to do – before letting them do the installation process and into your property area. If you failed to do this, there is a huge possibility that the process will not be done accordingly and smoothly. To help you in this step, here are some of the most important questions that you need to ask with your possible tv mount company:
"How Long Have You Been in this Industry?"
You cannot deny the fact that hiring a reputable tv mount company is always better and safer. Wall mounting your television using TV Bracket in Singapore is not a joke – and you need to take it seriously. There are a lot of tv mount companies out there that only claims to be the best when in fact, they are not. Do not spend some of your money to the wrong company and waste your time and effort.
"Do You Have Your Portfolio That I Can Check?"
Checking the portfolio is one of the best ways to see if how this freelancer works or do the installation procedure. With this, you will have an idea of the outcome of his work. Failure to provide you a portfolio of them means you need to think twice before hiring them.
"Can You Provide Some Guarantee On Your Service?"
A good freelancer installer of TV Bracket in Singapore will provide you guarantee about their service because they know in themselves that they provide a high-quality of work. If the freelancer does not offer you a guarantee, then you need to ask yourself about what kind of work or service do they offer.
"Do You Have a License?"
Owning a license is also one of the important things to do as a tv mount installer. If the installation has something to do with electric modification, then you need to make sure that a licensed electrician will work on it. Do not risk your home's safety as well as your family.
Why is it better to hire a reputable freelancer tv mount company?
The answer is simple. Hiring a reputable freelancer tv mount company will make sure that you and your family will be safe. Additionally, they are knowledgeable about what they are doing and always offer high-quality service. Here are some of the additional benefits of hiring a reputable freelancer tv mount company:
High-Quality Viewing Experience – hiring a reputable one offers better results than doing it on your own. They offer to commit less to zero mistakes while doing the work – and this will also ensure that your viewing experience will be better and will enjoy it.
Time Value – after a long tiring work, you surely want to relax through watching a tv. Furthermore, valuing your time means to satisfy yourself about the things you love to do.
Respect Technology – as a reputable freelancer tv mount company, you must know about the updated technology and how you can put it on your work. Adding some features might help to level up the viewing experience.
If you are now sure about the installation company to install your TV Bracket in Singapore, then you don't have to worry much. Everything will fall on its own smoothly.