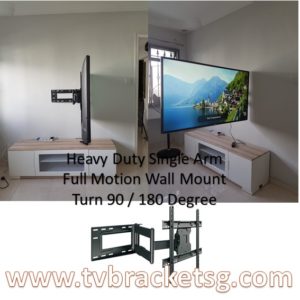 Are you looking for the right TV bracket Singapore to mount newly purchased television set in Singapore but don't know the right one to choose? Turn to TVBracketSG. We offer ideal wall mounting brackets that will ensure full compatibility and have all the features you are looking for.
One Guide Rules them All At TVBracketSG
 Our guide to choosing the right TV bracket in Singapore makes use of the specification standards, and you can take the same step when you are shopping for wall mounts with quality TV brackets Singapore.
Continue reading to learn about TVBracketSG steps and guide for buying a TV bracket Singapore for your TV.
Step 1
 Know Your Television
Have you bought your TV? Then take measurements right from the user guide or use a measuring tape to take the measurement. But you can take the measurements of your TV from the demo models if you are yet to make a purchase.
Regarding the main specifications, you must know the weight of the television without a stand, the dimensions of the television including the height and width, as well as the bolt-hole spacing for fixing a bracket.
We have universal TV brackets Singapore flexible enough to be compatible and cost efficient at TVBracketSG, if you cannot get the exact measurement for the mounting points on your television.
Step 2
 Select Your Wall
You cannot just hang all TV brackets on any wall, but with few exceptions. Big televisions necessitate big TV brackets with high-quality load-bearing structural support. Make sure your intended wall has enough support at the back to go well with the width of the TV bracket.
On the other hand, you can opt for a different TV bracket Singapore compatible with your stud or choose to install a load-bearing panel between studs to offer a secure anchor point at the right point. This will add a lot of class to any room if done in a professional way.
Step 3
Choose a TV Bracket Singapore Type
This is where you must consider the major TV wall bracket features. The three main styles available at TVBracketSG include Dual-Pivot or Extending, Tilting, and Low-Profile or Flush.
Step 4
The Elimination Process
Now that you know the type of TV bracket you want and your TV measurements, it is time to narrow down the right wall bracket for you. You can use TVBracketSG help to get the appropriate types of bracket all in one list of Tilting, Flush, or Dual Pivot.
If the overall width and height measurements of your television are bigger than the TV bracket in Singapore, your television will conceal the mount for a tidy installation.
Step 5
Installation
TVBracketSG strongly suggests that you allow the experts and professionals on the field to install your Mounts and TV Brackets in Singapore. Our brackets are sturdy and of high quality. Turn to TVBracketSG in Singapore, if you want to install a desk, ceiling, or wall mount.
Process Complete!
You should have narrowed your choices down to buying a TV bracket Singapore from https://www.tvbracketsg.com, once you have run through the above steps.
You can also contact us today at https://www.tvbracketsg.com/contact-us/ or Call / SMS / Whatsapp : +65 9183 7250 for further information concerning our products and services. Moreover, you send an email to: enquiry.tvbracketsg@gmail.com for further enquiry about our product line-ups.