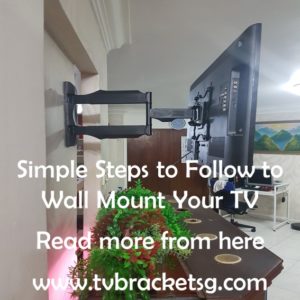 Singapore is a company that offers wall mounting installation for your television either residential or business. Wall mounting your television is a great way to save more space as it does not accumulate your flooring space. It is also ideal and perfect for everyone especially with those kids at home because when you wall mount a television, they cannot touch it or play with it. But if you think that you have enough knowledge about how to wall mount it, then you can do so. And if you aren't sure how to do it correctly, then hire professionals to do the entire work – just like Tv Brackets Singapore.
STEP 1: Before anything else, allow yourself to know if the television you purchased is mountable. To check this, you can directly ask the employee who you dealt with or look for the manual of your newly-purchased television.
STEP 2: Select the appropriate mount for your LCD TV. There are different types of mounts available at Tv Brackets in Singapore, so this is not a big deal. If you aren't sure which one to buy, then you can ask for their professionals to help you decide. In this step, you need to consider the size and weight of your TV.
STEP 3: Make sure that the wall you are going to mount your television is capable of handling it. That said, you will not be able to encounter future problems.
STEP 4: Decide how you are going to place your television on the wall. In this part, you need to consider the viewing angle of viewers and ensure that nothing blocks the entire view of the tv.
STEP 5: Make sure that there's a socket nearby your LCD TV so that the wires are not totally visible to anyone. If there are any sockets nearby, then you can ask someone to make one.
STEP 6: Now, you need to have a finder for the stud so that you will know if there are any studs near your television.
STEP 7: In this step, you need to put together all the mounting rails at the back portion of the television.
STEP 8: Now's the time to hang your new LCD TV. But first, you need to carefully read as well as understand the manual. Tighten all the screws.
STEP 9: You may now connect the cables to its proper position.
Final Verdict
Wall mounting any type of television is a tricky idea. A lot of people think that it is an easy job but the real thing is that they aren't. With Tv Brackets Singapore, there are professionals that you can hire and communicate with so that the wall mounting procedure will be done safely.