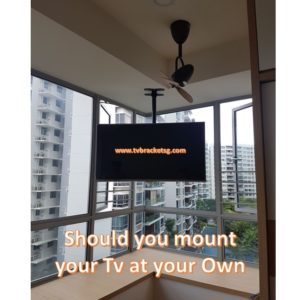 Are you planning to mount your TV on your own? Yes, you can do it by yourself. But there are several consequences if you didn't do it correctly and perfectly. Everyone thinks that mounting LED TV is very simple and easy and they don't need any type of professional help. But they are wrong because a professional can perform this job perfectly and more efficiently just like TV bracket in Singapore they will do this job for you quickly and more efficiently. Let's discuss some of the mistakes people make while mounting their TV on their own. Below are some most common mistakes you should avoid before you try to mount your TV.
Choosing a Wrong Wall Mount Bracket
This is the most common mistake people make while choosing a wall mount bracket for their TV and installing the TV on their own. There are different types of TV brackets available in the market just like TV bracket in Singapore, they offer a wide range of brackets for your TV. Each of the brackets comes with different features and depends on the size of your TV and wall. Always make sure to purchase a wall mount bracket that is strong and durable and protect your LED from falling down and damaging, etc. TV bracket Singapore trained and well-experienced professionals know that which type of bracket perfectly fits your needs.
People Don't Secure TV Brackets on the Wall
Almost everyone knows about hanging the TV with the help of TV bracket and that's it, but wait a minute it's not just to hang the TV on the wall. Think out of the box because just hanging your TV without securing it might create serious problems. Use of wrong brackets and non-professional installation could damage your expensive TV. It is a must to secure the wall to ensure that the wall can hold your TV safely for long times. If you don't secure your wall it can create problems and couldn't secure your TV for long times. TV bracket in Singapore trained technicians always secure your walls before the installation process of your TV and make it safe and secure for long times.
People Don't Use Proper Tools
When people try to mount their TV on their own, they don't use the right tools and they don't know how to use tools properly. TV bracket in Singapore have trained technicians and they always use the right tools and ensure the safety of your TV. Use of a right type of tools is must to install your Television properly and securely. It's a good idea to take the help of our trained professional they will do this job better than you and make it sure that you have a safe and secure installation for your LED. Using bad tools could damage your wall mount bracket or your LED and make huge problems for you. So it's better to hire a trained technician with proper techniques and tools to mount your LED.
Most of People Mount Their TV at an Unfortunate Height
This is another common but huge mistake people make when they mount their TV on their own. This will result you can't enjoy your favorite movie and shows because of the unfortunate height of your TV. Your TV needs to locate at a standard height so anyone can watch comfortably and enjoy their best shows. TV bracket Singapore technicians always figure out the proper height according to the size of your TV and room size and install at a proper and standard height. The unfortunate hanged TV can make a bad impact on your vision and neck and you feel pain in your neck while watching TV. Therefore, it is essential to choose a standard height for your wall mounted Television.
Bottom Line
Some people never hire an expert but hiring an expert from TV bracket Singapore is affordable and good for the safety of your LED. Installing your wall mount TV at your own is not a good idea unless you have the expertise and proper knowledge. If you are seeking to mount your new or old TV securely and perfectly you have to hire a trusted company that gives you TV-related services.
TV Brackets Singapore is the most trusted and professional company and once you try them out you'll going to fall in love with their services. Must visit www.tvbracketsg.com and make an appointment with the professionals to secure your expensive LED and they will do this job for you so you can enjoy your watch time comfortably.