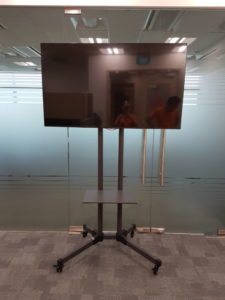 TV stand makes sense if you already have a dedicated shelf or entertainment centre for TV as it will help you save some cash. While the TV Mobile Stand in Singapore has its own set of advantages that we will discuss in the coming sections.
Explore the range of TV stands at TVBracketsSG and enjoy the best TV experience at your home or workplace. We will be delighted to assist you in selecting the perfect TV Stand. You might however want to study the salient features of each type.
TV Table Stand
TV table stand is a popular choice with buyers looking for something compact and cost effective. Table stand does not require professional installation unless you are not sure of doing it yourself. It is the perfect choice for customers who already have one or would want to place their TV on a TV shelf or an entertainment centre. First time TV buyers or those upgrading to LED/LCDs often get a TV table stand.  It may not have clever features of a new age TV mounts, but a TV on conventional stand is just about old time charm. The table stand range at TVBracketsSG is divided into four distinct models:
Small:  Suitable for 26" – 32" screen sizes, Tilt angle: 0°, load capacity up to 35 kg
Medium:  Suitable for 32" – 55" screen  sizes, Tilt: 0°, load up capacity up to 45 kg
Large:  Suitable for 45" – 60" screen  sizes, Tilt: 0°, load up capacity up to 45 kg
Extra-Large:  Suitable for 45" – 70" screen  sizes, Tilt: -0°, load capacity up to 60kg
These are some of the hits and misses that can help you decide on buying TV Table stand
Cost effective and compact
DIY installation possible, no professional help required
Is low profile and blends in with the surrounding
A must have if you wish to keep your TV on a shelf or entertainment centre
Can be moved easily without having to dissemble from the TV
Has no adjustment feature of any type
Viewing angle is fixed
Requires a TV shelf, table or entertainment centre
TV is vulnerable to fall with small children and pets around

All TV table stands at TVBracketsSG are VESA compliant. You don't have to worry about the compatibility of your TV with our TV stands, as all TVs made since 2005 are VESA compliant. Be assured of quick and high grade installation service at you home, business or workplace when you purchase any of our TV brackets.