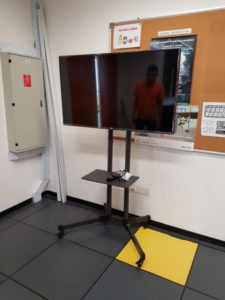 Purpose of the TV
For official purposes- If the TV is to be intended for work, like using it as   or display then we would recommend the Full Motion or Ceiling Mounts.  Such TVs often need to be tilted or swivelled around which requires either of the two. Many offices such as those of stock traders often have multiple TVs/Monitors that are hung from the ceiling. For this purpose TVBracketsSG can build custom ceiling mounts.
For Digital Signage or Digital Bulletin Boards– Bulletin boards have now been replaced by TV panels, even the relatively recent DOT Matrix displays are now obsolete.  If you are using TVs in your office as a bulletin board, you can go either for a Fixed Brackets or the TV Mobile Stand. If the digital signage is to be fixed on a wall, then you can select the fixed bracket. If the TV used as bulletin/board or Digital signage has to be movable, then you should take the TV Mobile stand. TVBracketsSG has one of the best ranges of TV stand in Singapore.
Why Select for TVBracketsSG for your office?
TVBracektsSG for long has been associated with contract work with offices and company buildings.
Over the years our team of technicians have developed skills and techniques which are necessary to work in offices.
Our team ensures that the office contracts are completed as early as possible so that your organization's work is isn't disturbed.
Our team takes special care of office decorations, wall cornicing, paint and that electrical/Telephone/Internet line do not get damaged in the process.
In case of bulk purchase or extensive contract work, we offer special discounts and rates.
The Labour charges start from as low as SG 50 dollar while a bracket costs start from as low as 30 dollar.
TVBracketsSG is always ready to take complex and custom jobs as per your requirements. Our team technicians are innovative and device new techniques and designs to complete the job with perfection at the same time keeping costs as low as possible.
For any additional civil work, we outsource the job to our trusted civil work contractors for which you do not have to worry.
Our technicians have been working for many years with us and we've been particularly praised for their workmanship and customer interaction.
TVBracketsSG also honours warranties on the product we sell and the services we provide such as installation.