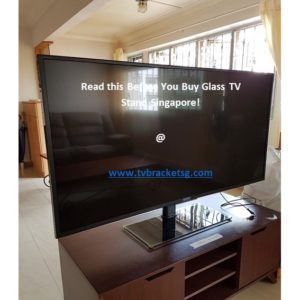 Possibly you have just bought a TV set recently and need a TV stand Singapore to go together with your new investment. Look no further than TVBracketSG who are the best suppliers when it comes to TV stands in Singapore. We have many TV stand choices for you to choose from and we will also help you settle on the one to buy.
When deciding on the stand you will buy for your TV, the material matters a lot and has a considerable effect on the general look and durability of the stand. There are many choices of television stands including tempered base glass TV stands in Singapore. But the big question here is; how do you know the best one for you?
To answer this question, you need to put some factors into consideration or seek the help of TVBracketSG. Read on to know how to choose the right one for you between the two.
The Appearance
In terms of look or appearance, glass television stands differ a lot. The base of this stand is tempered glass and goes well with modern looking homes because they fit contemporary and elegant appeal more often than not. Therefore, a glass TV stand Singapore is for you if your home is leaning towards contemporary.
Sturdiness
Sturdiness relies greatly on how the stand is made and how adequately it is maintained. If it is of good quality and handled well, it will last you for many years to come. But the truth is that your TV stand will deteriorate soon if handled carelessly.
Yet, you still need to consider the material. The fact that glass stands are more easily broken suddenly is one thing you may have to worry about. But the good news is that TVBracketSG will orientate you on how to handle your glass TV stand with utmost care to last long.
However, a glass TV stand is prone to scratches. As a result, this must be avoided as much as possible.
Maintenance
Despite the fact that some stands are susceptible to dust, these particles are more obvious in a glass TV stand Singapore because it mirrors light. For this reason, glass TV stands Singapore should be cleaned and wiped frequently to keep up its brilliance and shinny nature.
Before you decide on a choice of TV stands, weigh their pros and cons. Once you are satisfied with the result, you can then figure out the right material that best suits your lifestyle.
Do you want to know more about TV stands in Singapore? Contact TVBracketSG at https://www.tvbracketsg.com/contact-us/ for questions and more enquiry. You can also learn more about our services at https://www.tvbracketsg.com/product-and-services
With our more than 5 years' industry experience, we will help you determine the best TV stand Singapore for you. Our products are durable, affordable, and of the highest quality.