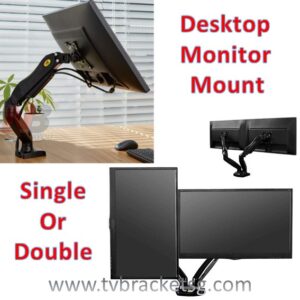 The use of computers both at home and in the workplace is now commonplace. Most people have their monitors on the regular fixed mount, which is almost always at an impossible angle for convenience. Usually, a computer monitor that is fixed at the wrong angle can be the reason for the never-ending shoulder, back, and neck ache. Continual use of such systems for a long time can result in discomfort, such as neck pain, back, and joint pains.
To enjoy the best work posture, the top of your monitor screen should always be at your eye level and the best way to achieve that is to grab our monitor mount which comes in two different forms. With our monitor mount, your comfort is guaranteed. The mount is flexible, which means that the position of the screen can be changed – it can be tilted and rotated. This flexibility reduces the strain on your eyes, neck, and back while also increasing your productivity. The adjustable height makes for an improved posture and general comfort.
They are the perfect option for anyone who intends to choose between sitting and standing work positions and still get a free workstation by creating more space on the desk.
At TVBracketSG, our mounts come in two forms – single and double. The dual mount lets you display two screens on one stand, which both saves space and increases your efficiency.  Both mount types make for a neat workspace as the cables are tucked out of view. Our mounts are sturdy while giving your space the air of sophistication.
The Single Mount
fits most 17″-27″ flat panel display. It has a VESA compliance of 75×75, 100×100 mm, and a tilt angle of +35° to -50°. The loading capacity is incredible, making it one of the most durable options on the market.
It is also designed to withstand the elements and deliver optimally, and under extreme weather conditions, it won't bend or bulge.
Key Features:
It can support a load of 4.4 to 14.3 lbs (2 – 6.5 kg).
It is black, with a rotation of 360° and a swivel of 180°+.
It is easy to set up
It can mount sizably large monitors
The dual mount fits most 17″-27″ flat panel display. It is VESA compliant – 75×75, 100×100 mm, and has a tilt angle of +35° to -50°. It is black with a rotation of 360° and a swivel of 180°+. As you would expect from a solidly-built and durable mount, the dual mount from TVBracketSG comes in handy in almost every feature.
Key Features:
It can support a load of 4.4 to 14.3 lbs (2 – 6.5 kg) per arm.
It can easily be tilted and rotated.
Easy to install
It allows independent movement of each arm
Call To Action
Visit TVBracketSG for:
Affordable prices – we provide valued products and services at a very reasonable price.
Technical support – our team of professionals provides world-class support for our every client. Our representatives give in-person help in selecting and providing a solution that meets our client's exact needs.
Excellent product delivery – our delivery team is a group of experts in what they do and are trained to deliver your products safely.
Quality materials – we deal with top quality materials to go beyond our client's expectations.
Your Next Step
Have a chit chat with TVBracket team about your unique needs
Schedule a meeting with our professionals
Evaluate the most suitable recommendations
Discuss with our teams, features, and price
Off you go with your effective monitor mount
Want a custom solution or further enquires? Check TVBracketSG for more details.
Conclusion
The best way to enjoy any display at a comfortable eye level is to get a monitor mount with adjustable height and angle capabilities. With our monitor mount, you will be able to minimize the stress on the back, shoulder, and neck and also ensure your station doesn't look too clustered. Do you prefer sitting or standing while working? Whichever one you decide to go for, our cutting-edge monitor mounts will definitely meet your needs. The mount comes with mounting options with features that give you the privilege of setting up your workstation however you decide.
The ball is right here in your court to make an informed decision for the best monitor mount. TVBrackets TV Bracket in Singapore is the right place to be. You won't regret any action using this incredible distributor to equip your house.