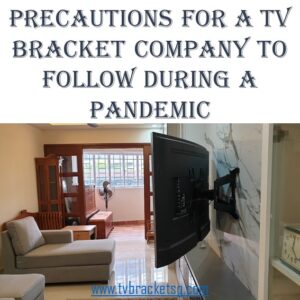 As with any other company, a TV bracket company must be forward-thinking if it wants a stronger business. It cannot simply invest in buying materials and selling finished products. It must also have a financial mindset that lets it expect any uncertainties in the market. After all, a business that only cares about its profits would suffer a lot when things suddenly go wrong. Given also that the future is becoming more uncertain, precautions need to be considered.
Sometimes, precautions are not considered by some companies because they think that it costs money. But research, development, and marketing also cost the companies some cash. It's just that this time, taking precautions is a safety investment which guarantees the company's reputation. Precautions are even considered as mandatory these days when Covid-19 was still a huge threat. This blog shows you what companies of TV brackets in Singapore need to consider during a pandemic.
Comply with Health Bureau Guidelines
Each country has a health bureau that oversees its overall health response especially during a pandemic. The department determines what steps must be taken for everyone in a specific area. It includes individuals and companies that transact with either individuals or other companies. There is usually a list of guidelines set by the health department on how to maintain extra caution.
Have your employees or staff get tested for any occurring pathogen responsible for a pandemic. How often depends on what the health department recommends. Have it scheduled such that everyone in the office gets tested. But, do not attempt to do an all-at-once testing approach. For a company manufacturing TV brackets in Singapore, ensure that testing and production occur simultaneously. Although, the productivity rate would be low as the department's guidelines may include a reduced workforce.
Cut Back on Forecasts
Whenever there is a pandemic, the economy is definitely affected. It means that most businesses, in one way or another, would suffer losses. Other businesses, such as those related to healthcare, would grow. In the case of a TV bracket company, it is included in those that would suffer losses.
If on the immediate year the company outlook seems promising, this year there has to be some changes. The forecasts for growth need to be cut back due to less sales and other aspects. It is not a shame to post lower, or even negative, figures for this year. Having to deal with the pandemic is a factor in such figures.
Improve Your Business Continuity Plans
Every company must have an established business continuity plan (BCP). It is often necessary whenever something unexpected occurs and affects the business in one way or another. But it is also important to update the BCP as frequently as possible. They need to be aligned to existing guidelines, be it from the health bureau or from somewhere else. This way, a company that makes TV brackets in Singapore would keep on operating without issue. When a BCP was assessed and found not compliant to existing guidelines, the business needs to adjust. Worse, it could pay a fine for potentially endangering its employees due to an outdated BCP.
A good BCP includes a staggered workforce where some employees will report to work while others do not have to. These employees must be carefully chosen such that only the most productive would be called. Also, the work hours need to be reduced if the guidelines say so.
Communicate with Your Suppliers and Customers
Businesses still need to communicate with their suppliers and customers when a pandemic is still active. Some companies make a mistake of forgetting to update their suppliers and clients of their current situation. Likewise, it is also foolhardy if the suppliers and clients told them something but they ignored it.
If the suppliers for TV brackets say that they cannot make as many items as before, accept what they said. Then ask them if they have a contingency plan in order to minimize losses for the long run. At the customers' side, explain to them that business is limited until the health bureau relaxed its guidelines. Even when the health department approves a "new normal" in industries, health safety guidelines must still be in place. This way, customers would not be necessarily exposed to the pandemic under your watch.
Book Our Services Today!
Now you have seen what this article was all about. It tells of what precautions a TV bracket business must consider when a pandemic is here. There will be cuts here and there, but it is also important to save as many lives as possible.
Even with an ongoing pandemic today, please do not hesitate to book our services. Just because there are some restrictions today doesn't mean we cannot install your TV brackets for you. Our patented process helps ensure that the TV brackets you buy from us are secure and stable. But you will get more for your money if you have them professionally installed.
Our customers are important to us, which is why you can ask us to install a TV bracket professionally. Unlike freelancers who do not have registered companies, ours is registered and on the market for six years. You can count on us to make sure that your TV experience would not be affected by this pandemic.
What are you waiting for? Call us now at our published telephone number or email us.