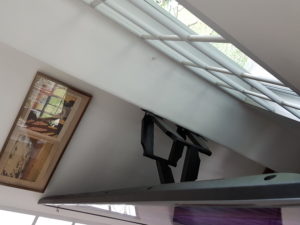 Offices and workplaces have used many forms of entertainment for employees ranging from the snooker table to table soccer and radio. By 1980s many companies installed TV sets in their offices. Old and bulky CRT TVs have now been replaced with sleek, thin and light LCDs and LEDs. Apart from TVs in office canteens and common rooms, TVs are installed in the main working areas. Stock Trading companies often have multiple TVs and Monitors in their working area.
No matter purpose the TV is used for in offices, one thing it surely requires is a proper TV fitment. Keeping a TV on a TV table or entertainment centre is not the best solution since office spaces are tight and real estate prices for offices in prime areas are very high in Singapore. Singapore has one of the highest real estate rates in the world. And sure you wouldn't to waste few square feet on a TV table.
Therefore, the best way to keep a TV in your office/business is to use Brackets or Mounts. TVbracketsSG will be delighted to provide you service.
Selecting a TV Bracket or Mount for Offices
This is a very question regarding the selection. If you've ream our previous blogs, we did discussed about on how does one decide while selecting a bracket that best suits the need. TVBrcaketsSG would be delighted to offer customers suggestions and recommendations based on their needs, However we can discuss on the matter here.
Selecting the type of bracket/mount depends up on
Location of the TV
Tea-room or Recreation room– If the TV is intended to be kept in a tea-room or recreation room; you might want to go in for a Tilting-Bracket. As people in such places you usually chat and rest at one place, a higher costing mount with more features should not be required unless the view angle is at uncomfortable from the sitting place.
Lounges– Waiting areas and lounges in offices and places such as hospitals often are large with seats in all or at least two directions. In such places we usually recommend Full Motion Mounts if you are using a single TV so that you can turn it anywhere you want. If you want a two or multi TV set up then you should go for Ceiling Mounts. We provide solutions for all such cases. We can modifications to the mounts tailored according to your requirements. TVBracketsSG has installed TV wall mounts in Singapore in several offices and business with custom needs.
Meeting Halls- For medium to large meeting halls, we recommend the Full motion Arm. A full motion arm as it will give the ability to turn your TV/Monitor screen to the direction you want. In case your meeting room is a small one, you can go in for a Fixed Bracket as well as Tilting Bracket.