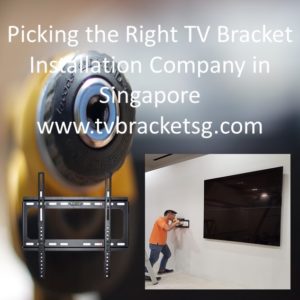 In today's time, televisions are part of every human's life – especially when he or she has nothing to do, waiting for someone or just simply looking for things that will entertain him or her. And mind you, every living room has its own television – even in the bedrooms. Television not only gives you entertainment but also provides you with a classy design.
Ways on How to Choose the Best TV Bracket Installation Service
Mounting your television on the wall is a bright idea but mounting it all throughout yourself is a little bit challenging. In Singapore, mounting the television is the most chosen option by almost everyone. It's no surprise why everyone does this kind of practice because it can help you save space, give an additional design and style to your home, and provides you a better viewing experience. Here are the following ways on how to choose the best service for a TV bracket in Singapore:
Check for the best installation service in Singapore online. Make sure you do a background check and reputation of the company or website.
Check how many years does this company works in the tv installation service field.
Always choose the company that has a great customer service and will accompany you all throughout the process.
Go to the company that gives warranty for every item they are selling.
Check if the engineers are trained and professional. Don't settle for amateurs as well as novices.
Picking the Right TV Bracket in Singapore
There is no perfect TVbracket in Singapore and any other countries. Each kind of TV bracket has its own ups and downs. Just make sure that you will choose and use the metal brackets at a reasonable price. The TV bracketis not always high-quality – even in other parts of the world. The reason why? Because the cheap wall mount is always there. Even if both cheap wall mount and expensive wall mount are made out of metal brackets, there's still a difference between the two, a big difference indeed. Wall mounts that have a cheap price use softer steel compared to pricey wall mounts. And they do not have enough features and hardware just like costly wall mounts have.
When you buy your TV bracket in Singapore, make sure to go for brackets that are costly but you need to check and inspect it first very carefully. You need to make sure that these TV brackets are durable and set to last for a long time.
Final Few Words
Installing TV brackets look simple to do but can be challenging once you are already doing the process. Our company will help you install your TV bracket and will make sure that it doesn't bend because we work in a professional way. And talking about working in a professional way, we are serving people in any part of Singapore for more than 6 years. Let us help you install your TV bracket, connect with us at www.tvbracketsg.com now.