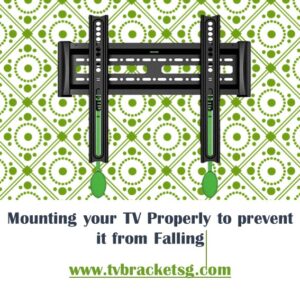 Do you ever wonder if your TV might just fall off the wall it's mounted to? Well, it can happen if your TV isn't mounted properly to the wall. Since you wouldn't want your new and expensive TV to fall off and break, you shouldn't risk it and let a professional handle it. Rather than having to lose your precious TV over mere negligence. A TV can fall off the wall for multiple reasons such as,
Overloading TV bracket
If your TV is too heavy and the bracket cannot bear its weight, chances are it might take a fall. So, whenever you are looking to buy a TV bracket make sure that it is suitable for your specific TV to prevent any mishaps.
Poor Quality TV Bracket
If you're trying to save some bucks by investing in a cheap and poor quality TV bracket, it might cause you a much bigger loss than you are anticipating. Since you wouldn't want your tv to fall and break. Invest in a good quality TV bracket such as a TV bracket in Singapore. As it's better to be safe than sorry.
Improper Wall Fixing
Mounting a TV on the wall might seem easy but can be tricky business for some people. Which is why it's best to leave to the hand of the professionals. Sometimes people use the wrong fixings and sometimes they fix the TV in the wrong way on the wall. Whatever the reason may be, it can cause your TV to take a leap.
Improper Bracket Installation
Chances are that your TV can still fall off even after using high-quality TV mouth and fixings. What? Yes, it is possible that after all the investment you still might lose your precious TV. All due to mere negligence in the installation process of the TV brackets. If you do not have the required skillset to install the TV bracket, make sure to call the professionals and let it take from there.
So, in order to prevent your TV from falling make sure that you use a good quality TV bracket that is appropriate for your specific TV set, use proper fixings, studs, and washers, and lastly fix it properly to the wall. Or a simple solution to your problem can be to call in the professionals and let them take care of all your TV mounting worries.
A well-mounted TV does not only add to the aesthetics of the room but also ensures its durability and safety. It is also very practical too, as you save a ton of space making your room look and feel broader. So, whenever you're thinking of having your TV mounted to the wall rush to TV bracket in Singapore and have your TV mounted to perfection.
You can contact them even if you're having problems with your existing mounting. They are the most experienced professionals who will surely exceed your expectations by their amazing service.
Prevent accidents to your children from falling TVs
The new TVs are normally fashionable and seemingly light. However, this does not mean that a fall from such a TV will not harm your child. As such, you should ensure that your children stay away from the part of the wall where the TV is mounted. Furthermore, you need to use a professional who knows about mounting a TV using TV brackets in Singapore to prevent any accidents that may harm either your child or a family pet.
In summary, the discussion above has provided some tips that will prevent your TV from falling subsequent to mounting. Using frames within the walls for better stability, using the right tools when installing the TV bracket, and using the right TV bracket based on the weight and dimensions of your TV. Finally, ensure that you use a professional TV bracket installer to prevent such accidents. You had better use more money during installation by hiring the professional and remain safe than sorry.
Final Verdict
TV bracket in Singapore is a registered company that has been in this business for over 6 years now. And all of this has been possible because of your trust in their wonderful products and exceptional customer service. They offer the most credible and reliable TV mounting products and services. They always make sure to leave their customers satisfied and happy.