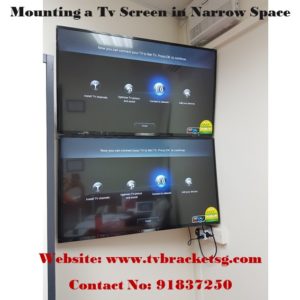 Over the years, TV stands have become so unpopular and are slowly being replaced by the TV brackets and a range of other TV mounting options. There are many benefits of mounting your Television. Experts have come out to argue on the pros and cons of the wall mounts. We recently covered did an article about it here. Some people believe that mounting a TV on a wall is dangerous or difficult, after all, who would want to have their brand new TV set dangling on a wall?
As opposed to what most people may think, mounting the TV isn't painstaking, and anybody with interest can be able to do it and additionally putting your TV up on a wall has several advantages. Here are some of the reasons to consider mounting your TV;
Flat screens are supposed to be mounted
One of the reasons why you should mount your flat screen is because flat-screen TVs are supposed to be mounted. This is the most basic and essential reason why you should have your flat screen mounted. If you look at the back of your TV, you will see that it has specific attachable bolts which means the flat screens are meant to be hanged on a wall to give you an optimal viewing angle.
You need to create space
If you need to create space in your living room, a stand is not the way out, a TV mount is. Television mounting is not only efficient but also, it saves you a lot of space. Supposing you have a room with a fireplace, setting up a separate entertainment corner will consume a significant amount of the floor space. Considering the couches, tables, and walking spaces, having the TV mounted may be the best option, this will reduce clutter in the room in the living room.
Mounting the TV is healthy
Mounting the television helps your eyes and the neck not to strain since, with adjustable mounts, you can adjust the TV to an angle that you are more comfortable with. This is very useful if you are mounting at a higher level above a mantle or a fireplace. While doing this, you need to make sure that your TV mount is fitted with a Full motion feature which allows you to watch the TV at a correct height and in an appropriate angle thus helping you reduce strain from watching at inappropriate angles.
Ease of installation
The process of mounting a TV can be done in less than an hour, believe it or not. Our stores contain a range of TV brackets with easy instruction directions to help you mount your TV. You will find the process quite enjoyable.
To find the best available mounting products for home and office, check out Tv Brackets in Singapore product's page and get in touch with us today for more information.