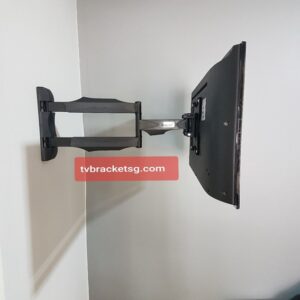 As the world progresses, wider TVs are being made every day, and wider windows being incorporated into the architecture of a home. Due to that, people are finding it hard to decide how exactly to mount up their TV and still have space left for several other things. We have an idea for you; mount it up in a corner!
You've probably thought about it and wondered if it is such a great idea; some people worry if they'll find the right TV bracket in Singapore to effectively mount up a TV in the corner. Well, we've got you covered with our many products, and the best part about this kind of mounting is that you can easily do it with a single arm full motion TV bracket or a double arm if you want to. If you need some more information about mounting a TV in the corner, here's all you need to know about it.
What To Benefit From Corner-Mounting a TV
There are several benefits if you mount your TV in the corner:
Create a Kid-friendly Environment
If you mount your TV in a corner, you will be creating a kid-friendly environment around the house. This way, your kids can play freely around the house without fear of causing any damage to your expensive electronics. This will offer you the opportunity to rest and shout less because you know the kids won't reach where the TV is installed.
Eliminate Spine and Neck Pain
Imagine the number of times you have to twist and turn your neck and back each time you engrossed in one of your favorite TV programs? The experience is always unpleasant, right? But with a corner-mounted TV, you can reduce or eliminate the pains you feel at the back or neck when watching your programs. But again, you will need to buy an adjustable TV mount to maximize your comfort. This way, you can even watch your program while in the kitchen
When You Should Start Considering It
If you have small rooms and a few sets of furniture to fit into your home, then a corner mount might be the best option for you. Sometimes there are no spaces left to simply mount your TV in the center of the room; this is when to consider mounting in a corner. This is because it not only frees up some space in the room for you for other things, but our tilting mount allows you to change your viewing angles so you can comfortably enjoy your TV.
Another time to consider corner mounting is when you have really wide windows, which is common amongst many homes these days. This leaves little space for mounting a TV, and even then, the space might contrast with the arrangement of your furniture. Some people who are skeptical about mounting their TV over a fireplace might just have to go for a corner mount.
The corner space is always wasted in a home, and people end up having to settle for a space they don't really want without even considering a corner space. There are four corners in every room; one of these corners is bound to work well with your décor and save you the stress of sacrificing your arrangement plans.
How Difficult is Corner Mounting?
Corner mounting is not difficult at all, especially when you use our product. Each TV bracket of ours comes with instructions that make it pretty easy for you to mount up your TV; you can even have it done and dusted within an hour.
If you can't do it yourself, then our team is always available to help you mount up your TV so that nothing goes wrong. There are also videos available to help explain the mounting process and make it easier for you.
How About Flexibility?
If you're wondering about flexibility, then we've got you covered with our tilting mounts and full-motion mounts. They are all very strong and safe and can hold any TV inches you have. Our tilting motion can tilt your TV both up and down for whatever viewing direction you would like.
Why not try to get the best TV Bracket in Singapore from us?