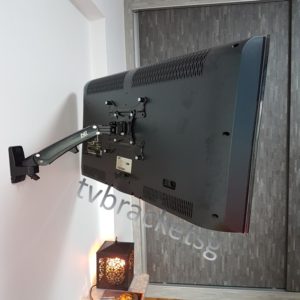 Research has it that people can perform better and get more work done if they have more screen area and using multiple monitors. Here at Tv Bracket Singapore, we have experimented this and found this to be true. Using multiple monitor mounts is a simple way to double or even triple your working area. However, even though there is an advantage of having multiple screens in your working area, that doesn't mean that it would be the best option for you or for anyone else. That will depend on how you work, the programs you intend to run and the amount of desktop available for you, not to forget the amount of money that you are willing to spend.
What Does It Mean to Have More Monitors in Your Working Area?
First of all, having multiple mounts in your working space simplifies your work load. It enhances your focus and thus productivity. Tv Bracket Singapore advocates for the use of multiple monitors in your working area however, there is also a downside to that. If you are considering using a stand mount, having multiple monitors might not work for you and therefore, it would mean dedicating a large floor area to support monitors.
This is a costly undertaking, and it would definitely not work where the room is small. In addition to that, it would also mean that you have to sacrifice additional space just to hold the monitors. If you decide to mount the monitors, it would force you to go for multiple single mounts, which would not be worth. Therefore, having multiple monitors is a good option to go for when you need to simply work but a costly one.
TV Bracket Singapore Solution to Multiple Monitor Mounting
While multiple mounting can be advantageous to the user due to the versatility and increased focus, we cannot ignore the fact that multiple monitors requires additional installation costs, a lot of space which in most cases is a hustle for the user.
Tv bracket Singapore has a work around to this problem. Gas strut monitor mount is a mount that allows installation of multiple mounts with so much ease and added features that allows precise customization. While it is possible to get a single gas strut mount from TV bracket Singapore stores, we would recommend getting a dual mount for each pair of monitors.
A gas strut monitor mount from Tv bracket Singapore is one of the best monitor mounts. It is powerful, stable and comes with a lot of customization features. All of which are meant to help you position your television in order to get the best from your work space.
While you can also beat the problem using a large desk workspace, imagine the space area it will cost you, more than you will obviously stretch from time to time which defeats the purpose of multiple mounts. With mounting, the screens are made to appear as if they are fixed in one point. This enhances focus.
Advantage of A Gas Strut Mount From Tv Bracket Singapore
A gas strut monitor mount is one of the most powerful mounts from Tv bracket Singapore. Not only does the mount make the work easier for the user by simplifying the work area and space, it also helps the user add more customization features.
With this mount, you can adjust your viewing height appropriately such that you get optimal viewing while working. In addition, this mount allows you to adjust the angle of the television appropriately. With a gas strut monitor mount, you get a good immersion of your screen which enhances your viewership experiences. Lastly, with the gas strut mount your work performance is significantly. This is so because of the improved focus that you get because of mounting.
Conclusion
While there are many hindrances when it comes to multiple mounting, especially related to cost and space, multiple mounting of the monitors is one of the best things to do to improve your work space. With a gas strut monitor mount from TV bracket Singapore, you can work through those hindrances effectively. We offer this mount in a single or double package, more than that, if you need advice on how to go about installation, contact us for more details.