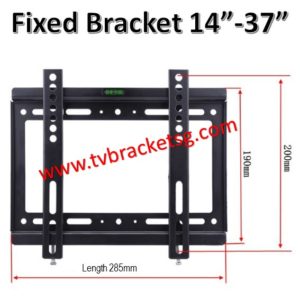 A big flat screen TV set doesn't always look right when placed on a TV floor stand. These modern television sets are intended to be mounted on the wall by a professional TV bracket Singapore Company like TV bracket Singapore. With modified TV mounting services in Singapore, you will accomplish the cutting-edge look you need for your room.
TV Mounting Singapore Service
Since the advent of the latest flat screen TV sets, TV Mounting has become a common service provided by specialized companies in Singapore. The main reason for TV wall mount as against TV floor stand is to streamline your room and make your house look sophisticated and tidy.
TV Bracket SG is a Singapore company that will offer you the perfect way to mount your TV. With more than 5 years experience, this company has been providing professional and full time services in the industry. This makes them one of the best TV mounting companies and the top choice for people who are looking for ground-breaking TV bracket Singapore services.
TV bracket mounts in Singapore are available in different types and TV Bracket SG has every answer to meet your needs. We don't use cheap TV bracket quality because they are not always the best for TV wall mounting. We offer durable TV brackets with exceptional installation service in Singapore. To ensure the safety of your TV, we use long-lasting TV brackets.
Why TV Bracket Singapore Installation on the Wall?
–  Additional Space – With TV bracket installation on the wall in Singapore, your room will be roomy.
–  Convenience – Plugging your thumb drives or cables with full motion TV brackets is hassle-free.
–   Cleaning is Easy – TV wall mounted television is easy to clean because you can easily pull out the TV from the wall to remove dust at the back of the TV.
–  Viewing Angles – When a TV is mounted on the wall, you will be able to view your favourite programmes from any angle of your room.
–  Safety – Any TV mounted on the wall is secured from being pulled down from a TV floor stand.
Why Choose TV Bracket SG for Your TV Wall Mount in Singapore? 
Professionalism
We give expert advices to customers and suggest quality and the best TV bracket to cater for individual requirements. We do know that the requirements and expectations of each client are different.
Attention to Details
We pay attention to details and check the size of your TV, the surface for mounting your TV and establish whether you have a TV bracket or need one, in the course of our consultation.
We will even put additional effort into hiding the TV wires at the back of the wall for a beautiful appearance. The final outcomes of your TV bracket wiring and placement is that your flat screen will look neat on the wall.
Pricing
Nowadays a lot of freelancer provide very cheap price to lure customers into patronizing them. You should look for us for all your TV mounting services as we are professionals and full time company in the industry with more than 5years experience.
Although we are not the cheapest when it comes to pricing, but our fees are reasonable and adequate. With our products and services, you will have value for your hard earned money.
For commercial project, we usually make a trip down to your place to conduct a site survey before giving you the best quote. There are different quotes for different requirements.
Our Services
We supply diverse kinds of universal TV Brackets and give all our clients second to none TV Mounting Services in Singapore.
No other supplier has a product line-up that contains so many different types of TV Stands, TV Mounts and TV Brackets in Singapore.
Our product line-up includes:
(1) Fixed Brackets
(2) Tilting Brackets
(3) Full Motion Single Arm Mounts
(4) Full Motion Double Arm Mounts
(5) Ceiling Mounts
(6) TV Table Stands
(7) TV mobile Stands
(8) Gas Strut TV Mounts
(9) Gas Strut Desktop/Monitor Mounts and TV Floor Stands.