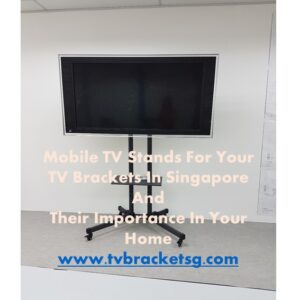 After making that important purchase for your Flat or Curved TV Screen, you know you have a good investment that needs protection. Keeping the TV to close to you may affect your eyesight and even cause fatigue when used for long hours. Essentially, what you need to prevent this is a good TV bracket. The TV bracket in Singapore needs to be installed well to prevent your TV from falling causing damage to the hefty investment you made during purchase. As such, the following discussion will explain tips to use to prevent your TV from falling once mounted using TV brackets.
During the mounting of your TV using a TV bracket, be sure to firmly fix it on the wall. To do so, you can change the integrity of your wall to prevent your TV from falling off. This will help in case of calamities such as earthquakes or contact related accidents.
Some manufacturers of TV provide a touch bridle or what is known as a fastened cable to assist during the mounting. In addition, you should use the right type of TV bracket as well as screws to ensure that you mount the TV well. Also, ensure that your wall will sustain the weight of the TV.
When purchasing your TV, you can choose one that has feet on each side of the bottom part. This provides more security from falling and secures it in case of shaking.
A television is a necessary component in your home as it not only offers entertainment but adds to the aesthetics and décor for your home. Therefore, while considering a good TV, you also need to consider accessories as well. One such accessory is a TV bracket. While a TV bracket that is installed into your wall is okay, you can also consider a TV bracket in Singapore that is attached to a mobile TV stand. There are various benefits you gain by getting a TV bracket that helps you attach the TV to a mobile stand. The following are some of the benefits.
Your Wall Will Have No Holes
When you have a TV bracket that is attached to a mobile stand, you will not suffer holes in your walls or ceiling. This is especially so if you love to move your TV around. Imagine the amount of damage you would have on your walls if you kept moving the TV bracket in Singapore holding your TV up? Well, the mobile TV stand holding the TV mounting is the best idea to prevent such damage.
Mobility
Mobile TV stands holding up TV brackets are portable as they have rollers. Therefore, moving your TV from one room to the next becomes easy. Also, you do not have to watch the TV in one location every day, you can choose different locations. It is also great if used in offices for conferences; you will save the money you need to buy multiple screens for the different conference or meeting rooms.
Flexibility
Mobile TV stands allow you to adjust the height of the TV bracket holding up the TV. Furthermore, you can also adjust the angle for better viewing. As such, you do not need to be uncomfortable while viewing your favorite movie or enjoying that family movie night.
Variation
Mobile stands have different sizes and support different TV brackets for different TV sizes and weights. You will get a TV bracket in Singapore that will fit the size of TV that you have and this is ideal due to the issue of weight and dimensions of your screen as the Mobile stand will withstand different sizes.
Other Features Included
Aside from attaching the TV bracket to your mobile TV stand, you can also have a stand that has other features. These include shelves for your game consoles if you are an avid gamer. You can also get TV hatches for placing other items such as your decoder. There are Mobile stands that have spots where you can hide the cables for your TV, game console, or decoder to ensure the room remains neat.
As such, the discussion has shown you the importance of having mobile TV stands for TV brackets. You can choose one made from metal or wood which are the two main materials used to create the mobile stand. The style of your home will help you decide what kind of material you need. Ensure you have a mobile TV stand that attaches the TV bracket in Singapore well and ensures mobility with no stress on your part. You will have the freedom to move the TV around well if the TV bracket is well attached to the TV to prevent any damage. Finally, you will never have to worry about damage to your walls.