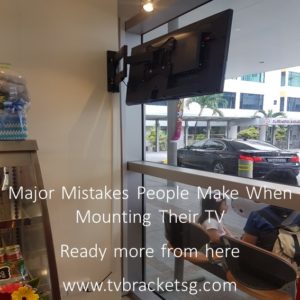 Yes, it is true that wall mounting television can be a do-it-yourself job and can be down with your own hands. But there are many consequences if you don't get it done properly and correctly. Almost everyone thinks that wall mounting LCD TV is easy to the point that they do not need professionals to help. But with the help of trusted companies that offers wall mounting installation services just like Tv Brackets Singapore, everything will be done successfully.
People Make a Wrong Choice of Wall Mount Bracket
The wrong choice of wall mount bracket is the most common mistake of many people when they install the television on their own. Just like with Tv Brackets in Singapore, they are offering a lot of wall mount brackets and each of them comes in different feature depending on the size of the LCD TV as well as its weight.  If you will purchase a wall mount bracket, ensure that it is strong and durable enough to hold your TV.
People Do Not Secure the Bracket on the Wall
Almost everyone thinks that installing or wall mounting a television is just putting or hanging it on the wall without thinking outside the box – and that's totally wrong. When wall mounting a television, aside from knowing which type of bracket to use, it is important to secure the walls and know if they can hold safely your television for a long time.
People Do Not Use the Right and Proper Tools
Unlike with Tv Brackets in Singapore, their professionals use the proper and right tools to ensure the safety of wall mounting installation. In everything that you do, it is essential to use tools accordingly so that you can guarantee that you are doing the right thing.
People Do Not Calibrate Sound & Picture Properly
With your newly-purchased LCD television, you might think that it is ready to use – but no! Before you use your new television, you might want to calibrate the picture and its sound so that the sound will be clear and deep and the quality of the picture is better than ever. You just look for the settings and adjust it according to your liking.
People Mount the TV at Unfavorable Height
This mistake is a big no! If this happens, you will not be able to watch your favorite show or movie properly – and basically, you will not enjoy it. Your television needs to be at the right height so that everyone can watch comfortably.
Final Few Words
To make sure that you are not doing the same mistake just like other people did, hire a trusted company that offers Tv-related services like Tv Brackets Singapore. You may visit www.tvbracketsg.com and talk to their professionals – because you deserve the best and comfortability.