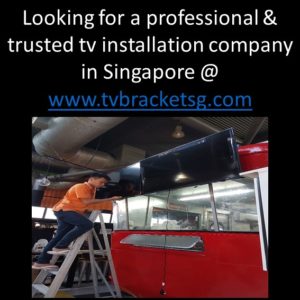 There are so many advantages of owning a flat screen television. One of the greatest being that these super powerful electronics are able to keep a low profile. With the dawn of tv brackets in Singapore, it meant that there's more flexibility in that, even with a very big television, it could be mounted anywhere. When a television is mounted on the wall, it gives the whole family a better viewing experience and unlike the entertainment centers, television mounts save a lot of space for the homeowners. However, mounting a television is not that easy and that is probably the most profound mistake that homeowners make resulting in expensive and destructive results. That said, you could also trust an installation company only to end up with a more damaging result. Therefore, in this blog, we are going to look at some of the things you need to look for in an installation company before hiring them to do your tv bracket in Singapore installation.
Hiring a professional might be the best option and it will take the stress off you. Mounting is not easy and therefore, even when considering to mount the television, make sure that you are hiring the right people to do the job. Some of the qualities you should be looking for are;
Do they have a stable and strong portfolio? The portfolio speaks about their track record of performance and success, how they have worked and how successful their projects are. This probably should be the first thing that you should check for in a professional company. Some of the tv installation companies might be great in terms of what they are advertising for but they really don't have something to show for it. Therefore, before engaging an installation company's services, it is important to first speak about the firm's prior experiences with installation.
The experience of team members
This is something you should really be concerned with. You should be looking for a company that presents its best people for the job. Competency should be the core of any professional company, how they handle you right from the first call should speak something about the company itself. In addition to that, you should also determine whether or not you need to have an individual or a group, at times all you might need is a consultation on how to go about the process.
When looking for a good company to work with, you should look at what they are charging for their services. Determining a reasonable cost for the services involves more than simply fining the cheapest installation company. Be careful not to go for the cheapest installation service company. In most cases, they might inexperienced in the job ad have nothing to show for their work. They therefore, might end up doing a very poor job for your company. At the same time, do not for the service company that charges highly, chances are, they might be exploiting you. Whatever the level of experience an installation company has, you should keep your budget in mind.
Is the company offering any other service beside installation? That is something you should be keen about because chances are, you might be needing extra work done in your project. Rather than having two professional companies working on the same, it would be better having the job done by one company that you can coordinate well.
There are so many factors that you need to be looking at when choosing an installation company. First, you have to assess whether the company has an understanding what it is they are doing, and what you are looking for. They should have a familiarity of what you need. There are instances where you just need to talk to a professional before going ahead with a planned action, in that case, how prompt are they to answer you and can they be accessed anytime you need them?
These are some of the factors that you need to look for when you opt to use a professional company. If you need professional advice on your installation as well technical assistance, talk to us a call anytime or write to us. We will be happy to assist you in anyway.