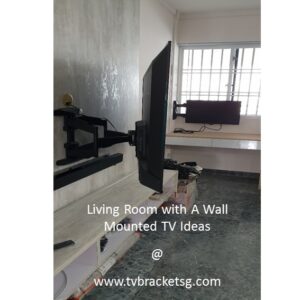 Are you still caught up in the crafty and old fashioned use of the TV wall units? Do not hesitate to reach out as it is not too late for you also to be caught up in modernity! Reach out to the TV bracket in Singapore as we have you sorted out on ideas on how you can achieve a modern display of this item in your living room.
What Do You Consider When It Comes to Mounting A TV On Your Living Room?
Walls have become an essential entertainment feature in a living room. In the modern homes and apartments where the space appears scarce and has no other specific area for a TV room, you can always consider the option of mounting it on a wall.
Additionally, this option will come in with some factors to consider, as this is the place where a lot of families meet for bonding and socializing. These will include;
Technical Know-How-This includes the technical knowledge on assembling parts such as the brackets on installation by determining the best angle, location, and positioning of your TV. As the TV bracket in Singapore, we will offer you the best services as we have trained professionals to meet your needs. These will offer fewer hustles on your worry to tamper with the TV and the risks that come therein.
Necessary Tools-We knows that TVs different sizes and hence come in with the task to determine the parts to use while mounting, such as the bracket sizes, TV stands, and the right tools and quality to installation. With this in mind, it is necessary to consider quality tools and also hire out services from specialists to avoid technical hitches.
You can look at some of the ideas listed below that we can take you through and how you can incorporate them into your home.
1.      Vertical Positioning
Where the walls of your living room are narrowly designed, you can choose to place it at the center and make some vertical shelves on its sides. This will help you to balance your limited space.
2.      Parallel Art
You have to ensure that the room appears less congested every time! For this purpose, do not wrap around your sofa sets, instead place them parallel to the television.
3.      Urban Fashionable
This idea will leave you with the modern industrial feel. With a concreted wall and ceiling add on some few bright accessories and low seating.
4.      Warm Wood
Cladding your TV spaces' walls and ceiling with wood laminates is cozy. With some lightings on the ceiling and some hanging lamps will warm the vibe.
5.  Keep It White
If your home has a smaller space, the white color is the way to go. Use a TV that is not too big, and the white color will keep it looking bright and airy.
6.  Creating A Focal Point
You can make use of your cozy corner as another option. This idea will give your room a distinct identity and can also be able to surround the seats with some colorful apparel and paintings.
7. Wooden Wall
You will mount a wall and base unit combo against this wood panel back. When the TV is mounted on one end of this long console, you can use the opposite end to display some arts or lighting lamps.
8.  Luxury Looks
Different people have different tastes and preferences. If you are looking for a luxury look, you can mount your TV onto a marble effect panel. The wall-mounted units of the high-end finishes and the clear fireplace screen will enhance visual clarity as a result of making it remain on the marble.
Outsourcing services from TV Bracket in Singapore Company on your living room wall mounted TV ideas equals to:
Reliability-You can highly depend on our services as we are a team of professionals.
Quality-You will get quality supplies and ideas for all your TV queries.
Trustworthiness- We are a registered company serving the community for more than five years.
Conclusion
Keep safe! Keep neat! Go modern! Go spacious! In your living room with the best wall mounted ideas from the TV bracket in Singapore. Remember, you can always stagger in coming up with the best service providers and decisions on how to go about mounting a wall TV in your room. Feel free to reach out to us anytime any day. Notably, ensure that in your living room, it is not just about installing your television only but also your safety and its safety in the correct manner and quality accessories.