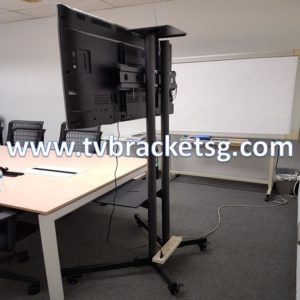 TV mobile stand from TVBracketSG is pretty portable for any television. These TV mobile stands are portable enough to easily be moved around your home. Another great thing about TV mobile stand is that it is steady and well-equipped to accommodate or carry the load of your television. As a result, you need not entertain fear about it being unsafe or falling over.
TV mobile stands are highly convenient options to a conventional television setup or other types of mounts, because the enormous mobility it affords can be very useful.
The Types of TV mobile stands Provided by TVBracketSG Singapore
TVBracketSG is proud of providing a wide range of extraordinary TV mobile stands in Singapore and its metropolis. Any of our mobile TV stands will surely meet your requirements. Our mobile stands are available in different heights including KLC151 and KLC181and different load bearing capacities. The height of our stand is adjustable and very solid with modern look. Mobile TV stands Singapore are suitable for both home and commercial purposes.
Heavy-duty TV mobile stand models are superbly sturdy and will last you for a very long time.
How to Identify the Right TV Mobile Stand for You
We have team of professionals who will advice you on the right mobile television stand. However, you can look at the range of options we have available at https://www.tvbracketsg.com/tv-mobile-stand/.
Considering the size of your television, measured in inches is the first and most important thing to consider when you are shopping for the right television mobile stand in Singapore.
One thing for sure is that all our Singapore TV mobile stands are manufactured from high quality steel materials. Therefore, you can be sure of the quality at an affordable price.
 Services Provided at TVBracketSG Singapore
The good news is that if you buy your TV mobile stand from us, the installation would be done by our competent installers. In addition, we are into the supply and installation of TV brackets and mounts in Singapore.
When it comes to the supply of all types of universal TV Bracket and Mounting Services in Singapore, we are second to none because no other supplier can boast a product line-up that contains a lot of different types of TV Brackets, TV wall mounts, TV Floor Stands, TV Mobile Stands, Fixed Bracket, Tilting Bracket, Full Motion TV Mount and many more.
All our numerous customers testify that we are meticulous and offer quality products and services at reasonable rate. You are guarantee high-quality products and careful installation without damage to your television.
How to Buy Our Television Mobile Stand
If you want to buy television mobile stand or many other tv bracket in Singapore , all you need to do is to go to https://www.tvbracketsg.com/contact-us/ or Call / SMS / Whatsapp : +65 9183 7250. You can also send an email to: enquiry.tvbracketsg@gmail.com