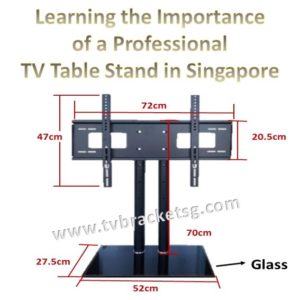 Since this pandemic has required everyone to essentially work from home, there has been a significant rise in the need for TV table stands not only for the flat screen itself but to also serve as a work table for some people.
Whether one uses it for entertainment or professional endeavors, getting the TV table stand from an established company can help you work much more comfortably especially if the owner has to say it for hours on end just to get some work done.
Here are some advantages of getting to work with a company when it comes to buying a TV table stand or TV bracket from Singapore.
1.     Professional Help
First off, customers will be able to get professionals to mount a TV stand without difficulty. Unfortunately, a TV table stand does not come constructed already, most of the time, clients will still have to assemble the product.
If you are able to get it from a professional Singaporean Company, you will surely have an assist from this staff and personal regarding assembly once it reaches your home.
2.     A Wealth of Online Resources
Secondly, you can easily pull off information online regarding product availability and specifications. If you work with an established Singaporean Company for your TV brackets or stands, you will be able to get a lot more information online from the website itself.
A client will not have to spend hours on end trying to search for specs and information online from unreliable sources. When trying to buy TV brackets from Singapore, it is important to get official details from the manufacturing website itself so that you can rely on definitive information about the product.
3.     More Options and Pricing
If you get TV table stands from an established company, you will also get more options when it comes to pricing. Singaporean TV brackets have a lot of product specifications that you can choose from depending on your budget.
Just make sure that you get the right TV tray or table for your specific needs. Everything else should follow after that.
Additional Considerations
A.    Know Your Purpose
Try to determine the purpose of your purchase. Will you use it for work? Or will you have it as a working TV stand as it is meant to be? By knowing this distinction, you will be able to get the product that will suit your specific needs in the future.
B.    Check Out the Size
The size of your television set should also be a consideration when trying to buy a TV stand. Fortunately for you, TV stands in Singapore can handle large flat screen television sets. The size will not be an issue for the TV stand at all.
C.    The Height and Material
As the customer, you also have the right to check the height and material used in constructing this particular product. Make sure that the TV table stand will be able to last long under pressure. This way, you won't have to deal with unnecessary repairs anytime soon.
D.    Customer Support
Speaking of repairs, an established Singapore TV bracket company will be able to provide adequate customer support whenever necessary. All you would have to do is to contact the website via live chat or e-mail or landline and you will get to talk to a customer service representative right away for sure.
E.    Online Feedback
Don't forget to check out customer feedback on any of the official company websites to get an idea as to how the TV table stand can work. By doing this, you will also get an idea as to the quality of the product itself before making your final purchase.
F.    Recommendations
It would also help you to consult the people that you know regarding the price. They would be able to give you at the comparative idea as to the quality and overall budget that the need to get the TV stand that you would want for your own home.
What is important is that you are able to get as much information as you need before making the purchase. This way, you will not end up with low quality products that could break down after a few months.
Conclusion
With these considerations, you will certainly be able to find the best company to work with when it comes to buying TV brackets and stands in Singapore right away. By knowing these bits of information, you will get to have an informed decision before making a purchase.
If you want to learn more about TV brackets in Singapore, please don't hesitate to visit TV Bracket SG right away. This website will give you all the information you need to learn about Singaporean TV brackets and trays or table stands without leaving the comfort of your own home.
Check it out now to be well informed!