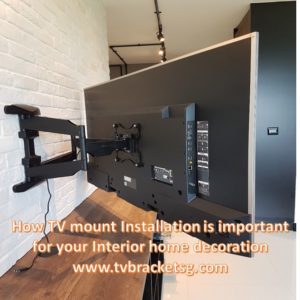 If you want to have the best when it comes to TV brackets in Singapore, you have to make sure that you are able to find something that would fit your interior home décor right off the bat. You have many choices available so you don't have to worry about these things.
All you need to do is to figure out the right one for you and everything else will follow. This article will give you some ideas as to how you can choose the right TV mount installation while taking into account your home decorations as well.
Different Types Of Tv Brackets
The first thing that you need to do is to make sure that you are able to find out the different types of TV mount installations available in the market. In this regard, we at TV Bracket Singapore will be able to give you what you need and more. Here are some examples of what we have to offer you in terms of the different kinds of TV bracket designs.
The Mounted Tv Bracket
This particular TV bracket will allow you to mount your flat screen television set on the wall without difficulty. There are different types of mounts that you can choose from as well. Here they are as follows:
The Tilting Mount
Single Arm
Double Arm
The Fixed Mount
The first of the options offer you a full range of motion and comfort while watching. This means that you will not have to strain your eyes and net just to get the right angle when watching TV. The last one offers use the ability when it comes to location. You can use the fixed mount if you want your television set to be steady and you don't plan to move around while watching television.
Aside from that mounted TV brackets, you can also use another particular design that allows for you to put your TV on a stand without difficulty. It is known as the Standing TV Bracket. Here are a few more details regarding this particular design.
The Standing Tv Bracket
The standing TV bracket offers you a way to place your television set and a sturdy yet mobile platform that will allow you to see the screen comfortably without having to move the stand around too much. Here are some examples of what we have to offer you as a consumer.
Mobile TV Stand
The Ceiling Mount
The TV Table Stand
Additional Details To Consider For Home Decorations And Tv Mounts
When you're trying to buy a TV mount while trying to redecorate your home at the same time, it is important that you consider the following factors in order to get the best product for your budget.
Here they are as follows:
You would have to consider the height of the TV as well as its size. Once you are able to determine the right size and height for the bracket and the TV set alike, it would be easier for you to decide how it would fit into your home decorations and interior design plan down the line.
You also have to consider the functionality of your TV mount. Is it going to be mobile or wall mounted? The answer to this would be able to determine how much wall decorations you can use especially in the living room.
You have to provide ample space for your wall decorations as well as your TV set. You also have to make sure that the color schemes match the interior design plan. A flat screen TV usually comes in black or metallic gray.
If you want some contrast when it comes to color scheme, construct a colorful TV area to offset that monochrome schema of the television set. This way, you will still be able to express your own self while dealing with modern technology.
Conclusion
Here at TV Bracket Singapore, we assure you that we will be able to give you what you need as a customer looking for the best brackets out there. We will provide you with all the information that could give you ideas regarding which one to choose as soon as you visit the website.
All you have to do is to make sure that you visit our TV Bracket Singapore website and everything else will follow in the end.
So what are you waiting for? Go ahead and give it a shot. I am sure that you will find the best brackets that will match your interior design plans from our online resources right away.