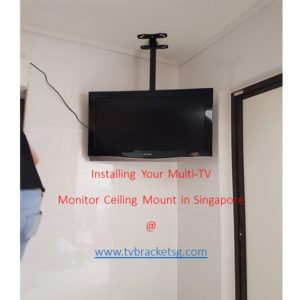 A lot of people are fond of using a TV for entertainment – and for businessman and women, televisions are very useful to their business. It plays a huge role when it comes to advertising. These televisions are a great way to know what kind of business they are offering. There are many types of TV wall mounts and in this article, we are going to tackle the Multi-TV monitor ceiling mount that can be found in airports.
Why Use Multi-TV Monitor Mount?
There are many types of TV brackets in Singapore and all has its use. For now, we are going to talk about multi-monitor mounts. These mounts can hold and accommodate 2 screens at a time or more specifically on wall, countertop, and ceiling. So, where you will see multi-monitor mounts? This type of TV bracket in Singapore is commonly found in different businesses like lounges, hotels, casinos, medical office, security rooms, and lobbies. Furthermore, restaurants, as well as retail stores, are using multi-TV monitors along with multiple TV brackets in Singapore so that they can clearly advertise their specialties to the people, announce or let people know about their upcoming events, and broadcast their menu so people can see it and choose from it.
So, why do you need to use a multi-TV monitor mount? All in all, using a multi-TV monitor mount is specifically for people who own a business. They use it for advertising their business and services sold to people.
Guide When You are Planning to Buy Multi-TV Monitor Mount
If you have a big business and you are planning to use multi-TV monitor mount as well as TV brackets in Singapore to help you advertise and promote your business and services, there are things you need to consider. First, make sure that all the flat or LEC screen you are going to use are compatible with VESA. Once your televisions are compatible with VESA, you have peace of mind that it is fitted with most of the TV brackets in Singapore.
Are Multi-TV Monitor Mounts Suitable for Business and Home Use?
Just like what we have mentioned earlier, multi-TV monitor mounts and multiple TV brackets in Singapore are ideal for business use. However, if a homeowner chooses to use it when displaying their flat-screen TVs, there would be no problem with it.
Multi-TV monitor mounts are commonly seen in offices, but it can also be used in your home – it only depends on your choice and decision.
Flat television mounts can hold different numbers of LCD screens.
Using multi-TV monitor mounts will cost you less because you can put two screens in one TV bracket in Singapore.
Installing Multi-TV Monitor Ceiling Mounts
Recalling what we have mentioned above, multi-TV monitor mounts can be installed on desktops, walls, and ceilings.
If you will choose to use a ceiling mount, it includes an adjustable pole along with a certain bracket placed at the top of it to secure and fasten the overhead surfaces. Make sure to screw it to the structure and ensure that you will attach studs or even rafters.
Benefits of Using Multi-TV Monitor Mounts
Multi-TV monitor mounts have more benefits than other types of ceiling mounts. It makes you even more productive and lessens the strain of your eyes along with your neck in the entire day of work. Here are the following benefits multi-TV monitor mounts can provide:
Compact workspace
Prevent eye & neck strain
Improves productivity
Focused workspaces
Easily seek the attention of people
It does not matter whether how many LED screens you plan or decide to use as long as it will give and provide you the freedom to work efficiently. Furthermore, using a multi-TV monitor mount will help you monitor easily your work. With a multi-TV monitor mount, you would not be needing again separate mounts and control it separately. When buying the best multi-TV monitor mount and multiple TV brackets in Singapore, make sure to buy the best one and made of high-quality materials because your screens will be at stake and you do not want to have it broken easily. Additionally, you should let professionals and experts install it.