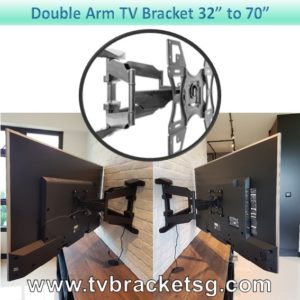 TV bracket Singapore is the best accessory to use if you want to have ultimate viewing experience of your LCD or Plasma Flat Panel screen television. There are different types of TV brackets you can use to mount your TV to view it better from any angle of your room.
TV brackets can be tricky and daunting to install for a layman in the field. Have you just bought a wall mount and looking for how to install it? Do you want to buy quality and reasonably-priced TV bracket in Singapore? Turn to TVBracketSG. We are not only the best suppliers of TV brackets Singapore; we also have qualified technicians who understand all the installation requirements for LCD TVs. We have deep knowledge of TV brackets, TV floor stand and TV mounting.
Our experienced and qualified technicians who can approach any installation service will professionalism and our quality and affordable products put us ahead of all our competitions. We follow instruction to the latter when carrying out any wall installation service.
Long-lasting TV brackets Singapore coupled with good installation service and customer satisfaction is our watchword at TVBracketSG. There is no other place in Singapore where you can get durable TV brackets in Singapore and high-quality installation service than from us. We have more than 5 years experience in industry with good testimonials from all our previous customers. This is because of our competence and dedication to duty.
With TVBracketSG in place, you don't need to go through the hassles of mounting your TV bracket all by yourself. But if you want to do the installation yourself, keep reading.
TV Bracket Singapore Installation Requirements
16 pieces of lock washes,
5/16 inch hex nuts and bolts
Allan Wrench
Open-end Wrench
Electric drill with wood
Mansonry or steel bits, depending on the type of wall you want to drill into
Extension cords (in case your electrical outlets are far from where you are drilling the holes).
Hammer
Flat Screwdriver
Stud finder
Socket set
Phillips screwdriver
Concrete anchors – if there will be need to screw the TV bracket Singapore into a concrete wall.
A level
Note: If you want the LCD wall brackets to level and straight, a LEVEL is a must have. This is the tool that will help you find out if the holes are straight. There is a strong likelihood that your wall brackets will be uneven and lopsided.
Use the stud finder to choose the wall area on the wall carefully to ensure that there are studs at the back of the wall to hold the wall brackets firmly in place. You may not need studs at all if you plan to install the TV bracket Singapore onto the concrete wall. Ensure that the concrete wall is solid with no gaps.
If you turn to TVBracketSG for your TV bracket mounting in Singapore, you are guarantee perfect installation. Talk to us today at https://www.tvbracketsg.com/contact-us/ for all your wall mounting services!
You can also visit https://www.tvbracketsg.com/product-and-services to learn more about our services.