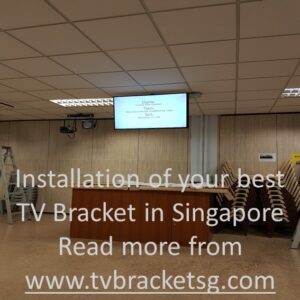 You do need that stylish and fitting solution for that TV bracket to help you watch movies or during your gaming activities. As such, you need our services to provide you with a various selection of TV Brackets in Singapore that will match with the ambiance of your home and provide your curved or flat TV with a good place in your living room. When you need such a service in Singapore, you need trusted services by companies that not only offer a warranty but are known for their professional services.
Another thing you need is a company that not only provides consultation but also offers a free estimate. With this, you will manage to provide the type of design that you need to ensure that you are well fitted for your entertainment.
A Guide towards Installation
Naturally, this is the first step when looking for your TV Bracket in Singapore. What you need to do is ensure that you make your choice based on the type of TV you have. There are Ceiling mounts for your night view, there are tilting mounts for you during relaxation, and there are also fixed mounts to enjoy in your living room with the family.
Choose how high to mount the TV bracket on the wall
Naturally, the height of your mounting will determine the mood in that room where you choose to place your TV bracket or your curved or flat screen. As such, ensure you talk to the customer service and provide former information on the way you need to place your screen. The world is your oyster, be the one to choose how all this goes for the comfort of you and your family.
Mark TV Dimensions
Televisions come in different dimensions and sizes. As expected there are wall studs that are required when placing TV brackets in Singapore. Therefore, you do need to ensure that you check the kind of house building frame you have before asking for the TV bracket you need. Also, inform them of what dimensions your Television may have to ensure easy installation.
The positioning of your TV Bracket
You need to make clear demarcations of your placement of the TV bracket. You need to use a spirit level to ensure that if you are not placing a curved screen, the flat TV will fit in just well. Ensure you mark where holes should go before calling the technician in Singapore to provide the services. Also, be sure to inform the customer service of what you require if you know they will install your TV bracket and screen while you are away.
Attachment of the TV to the TV bracket
If you are home when your technician is attaching your TV to the TV bracket, you should help during the mount. Essentially, this is important as it helps you know the best position for using your screen as well as what makes your family comfortable. Also, be sure not to drill the screws all in due to vibration that may cause the screen of your TV to break. Be sure to call for assistance from anybody who may help as it is hard to do the task by yourself.
Mounting Plate
A mounting plate is a great way to prevent the back part of your curved or flat TV as that is how and where your TV gains operation. As such, ensure that after placing the mountain plate on your TV bracket in Singapore, you are also screwing in screws too much in as it may cause damage.
Final Touches
Eventually, your TV has been mounted to the wall with much precaution. Be sure to check it is secure. Turn on the TV while hoisted over the TV bracket and check all settings such as TV Singapore channels to ensure you are set. You can also ensure that it provides the right sitting posture regardless of the room.
Conclusion
In conclusion, it is great to know that there are countless services in Singapore for TV bracket services. To get the right bracket, ensure that you check the above list that provides you a guide that can help you manage the process of mounting a TV bracket to your home. As mentioned above, what you need to consider is your wall, your type of screen, and other factors such as vibration. By so doing, you have a perfectly placed screen for you and your family's entertainment.