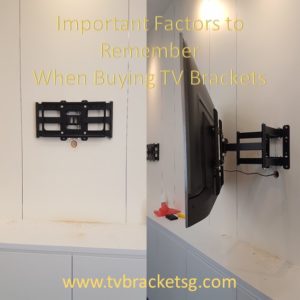 If you are trying to purchase the TV bracket in Singapore, certain factors should play a role in your final decision. These points will determine whether or not your bracket would function well for you last for many years.
Available Designs
First, you have to consider the different designs that you can get with TV brackets. Do you want a fixed design? Why don't you try something that you can move up and down? How about something that you'll be able to angle at different directions?
Whatever you choose to use for your own TV set, just make sure that you feel comfortable about it. Otherwise, the product would not be a good investment down the line.
Size
Secondly, you have to consider the size of your flat screen. The TV bracket designs are tailor made to carry some of the heaviest television sets in the market. You don't have to worry about your TV falling off the walls as long as you choose the right kind of bracket for this specific television size that you have.
Internal Components
The third consideration that you need to make would be the basic gears used in creating the TV bracket. This will ensure durability and longevity of the product despite carrying an enormous amount of pressure and weight.
A standard TV bracket in Singapore usually is made from heavy duty steel or metal with a thin line of plastic. This is why you do when it have to worry about the product not being able to carry at least a 16 to 20-inch TV.
Brands
You also have to consider the brand of TV's that you're going to purchase. Most of these TV Brands have a special feature designed solely for them. For example, some flat screens have designated holes for TV mounts to be placed in. These design features will certainly help you make the most of the product.
The Angular Limits
In addition to this, it is also important that you take note of the angles that the brackets could extend to when in use. Can your chosen bracket fully swivel the TV around? Does it stop at a certain angle and direction?
This will help you determine the extent of the product usability and you can learn to work around its limits to fully utilize the machine.
Pricing
Of course, you also have to consider the price of the TV bracket. Our company offers a wide variety of choice when it comes to design and accompanying prices for these products so you don't have to worry about not being able to find what you need without hurting your pockets.
Location Possibilities and Limitations
It would also help you to think about the main location that you are going to put your TV in. There are certain locations in the house that would be problematic for a flat screen TV. These are as follows:
Above the fireplace
Somewhere exposed to direct sunlight or running water
When placing the TV anywhere in the house, it is important to remember that he should not expose it directly to the elements. This will easily damage the machine and may leave you with a broken down television or brackets even before you start using it.
Specified Warranty
Finally, take note of the warranty that the TV has. This will help you save money down the line. Most of these flat screen TVs as well as the brackets have 1 to 2 years as warranty. It really depends on the company that you are working with. This is why you would have to do your homework prior to making a purchase.
Long Time Saving
TV is such a product that is a long term. It is not the case that customers use to change it so often. So, for the long term saving, they look, low cost but best product which can go in a long time period.
There are many TV companies in the markets that claim that they are fulfilling the demands of the customers. Practically and in getting experiencing, it does not happen. But on the other hand, TV Bracket in Singapore is a new company with a journey of only six years or so, claims and do respects and prefers to the customers.
Conclusion
These are just some of the major considerations that we think would help you make the right decision when it comes to finding a TV bracket in Singapore that would fit your needs.  If you would like more information on brackets or help installing them, contact us at TV Bracket SG right away. We will be glad to help you out.