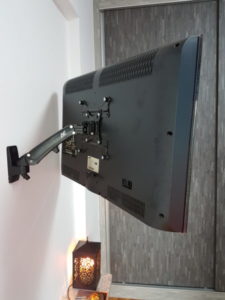 You've been wanting that classical look in your home and you've treated yourself with a brand-new wall mounting television, however you are wondering, should you or should you not install the TV onto the wall. Therefore, before anything else, here are some important considerations for you to consider.
Never ever put your TV above the fireplace
Yes, before mounting, the position of the wall mount is crucial and one place you should never mount the TV is above the fireplace. The heat and the soot created by the fireplace may end up ruining your TV. You cannot leave the TV above open fire and expect it to work just fine. Therefore, if your intentions were to mount the TV above the fireplace, consider some other place.
The size of the TV
Literally, you should make sure that the size of the TV mount or the height for that matter. If the mount is above the natural sight line, then TV viewing will create a lot of strain. This can be felt in the neck, the spine or the shoulders. The room size also matters in relation to the TV. The larger the TV the further away it needs to be from the optimal viewing position.
Television specifications
The stud needs to be optimal if you are to mount something as heavy as a TV. If you need flexibility with your TV, mounting it onto a dry wall may be the best option. However, weight may be the limiting factor since a dry wall may not hold over 40-50 pounds. On the other hand, mounting the TV onto a stand may be a good option because it can handle 80 pounds and more. This accounts for most of the TVs that are under 60 inches. Therefore, before making the purchase of the TV brackets, always check and follow the stipulated guidelines by the VESA.
This almost always counts. What mount do you need or simply what are you looking for? Depending on the type of the mount, you will find that each type of the mount will work differently from each other and therefore chose the mount that will work best for you.
Your objectives
Depending on what you seek to achieve, there are the mounts and the stands. If you seek to save on space, then the wall bracket will work for you. Furthermore, if you want to reduce risk of the TV being knocked down, the brackets are still the best. However, this depends on solely what you seek to achieve.
People shop blindly only to realize that it is not what they wanted, with this simple guide, you will be able to know exactly what it is you are looking for in a TV bracket in Singapore.