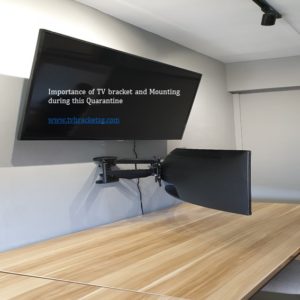 Everyone is now working and staying at home on this epidemic of COVID-19. Television has now become one of the most valuable assets in the house.
Most People, including the elderly, adults, and children, are glued on their sets either for general entertainment, streaming of movies, music, and also online learning.
These sitting rooms have also become learning rooms for the kids and also working stations for those who are working at home. With all these occurrences, it is now vital that you should consider having your television mounted on the wall, mainly to save space and also to secure it.
Our product, TV bracket in Singapore, comes in handy at this time. It firmly secures and holds your valuable screen on a wall. This bracket is easy to fix, and anyone can do it on their own.
However, to have it well-fixed with proper methods and equipment, you can contact us to provide this valuable service in your home, at your convenient time.
What is TV Mounting?
TV mounting is the fixing of a television set in a wall by the use of brackets. TV bracket in Singapore is a fantastic TV holder that can secure your set firmly in your living room. It can be fixed at any of your desired locations facing at any angle, as per your preference.
At this age and era, most television sets are flat screened, and if not mounted on a wall, they are prone to fall and break due to their fragile nature.
To enable your television set stay safe from falling objects and out of reach from kids and probably pets, you need it to be mounted.
TV bracket in Singapore is a company that deals with the most reliable and robust wall brackets for any kind of television. It can accommodate every make and size including 24inches, 32inches, 40inches, 43 inches, 46inches, 55inches, and all other bigger sizes. We provide different price quotes for different sizes. Do not hesitate to contact us at the end of this article.
Our company is registered, and we have been in this business for over six years providing quality services to our clients. We are much better than many freelance individuals doing this work since we give a better bracket and a better installation service.  There are several reasons why you should fix your television
Some of these reasons that should make you fix your set include the below:
TV mount secures your TV. Imagine having toddlers in your house, who, while playing, can throw and push on anything they come around? Fixing your TV makes it safe, away from reach by these kids.
TV mounting saves space: there is no need to waste much of your sitting room space buying stands and tables to place your TV on, when it can just be fixed on a wall saving so much space.
Appealing: with proper installation and tucking of cables, our kind of fixing will give your sitting room an excellent appeal, making it organized and neat.
Adjustable from destructions: with our unique type of installations, you can move your TV from one angle to another, away from direct light from doors and windows.
Cheap compared to stands: have you ever thought about the cost of mounting a television versus the cost of buying its stand? Well, if you compare it keenly, mounting is way cheaper.
Why You Should Try Us
After purchasing your TV bracket from Singapore, you can install it by yourself, which is way cheaper and convenient.
However, some installations come with unseen challenges. You might break your set or damage your house while trying to fix this wall bracket. That's why it is advisable to contact us.
There are several reasons why you should contract us and not any other freelancer who comes-by. Below are just but a few:
We are qualified: well, we have been doing this service for over six years, garnering enough experience to give you the best service. We have experience in all types of mounts and all makes and sizes of TV sets.
Cheap: our services are affordable. Compared to other companies, we provide cheap and reliable services. We even offer after-sales services to ensure you have a guarantee on our service.
Reliable: We do fixing on your scheduled time. You can book us in any day and any time during working hours at your own convenience.
To contact us, Kindly call or send us a message to our number: +6591837250. You can also email us for enquires and quotes using this email address: enquiry.tvbracketsg@gmail.com. We will be glad to have you on board.