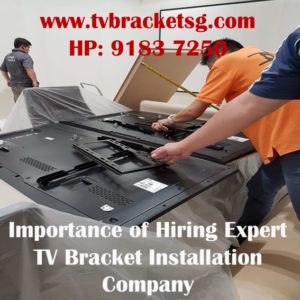 Have you made a new investment in a fantastic TV but still unsure of how to mount it? When you are talking about a new TV, you have different thoughts on your mind like where would be the right place to install it, how to mount it on the wall, or do you need a pro to help you install it.
Installing a TV bracket Singapore is very popular because aside from not consuming floor space, it also provides additional design and style to your house or workplace. And this article will show you the importance of hiring an expert installer of TV bracket Singapore.
Reason to Hire a TV Bracket Installation Company
TV bracket in Singapore is one of the most trusted company when it comes to installing or mounting a TV bracket. If you have doubts about doing the entire installation on your own, then you made the right choice. Here are the reasons why you need to hire a TV bracket installation company.
Helps You Decide & Choose The Right Place
Determining the right place to install your TV is the first challenge to every homeowner – and that is also why you need to hire and ask help from TV bracket Installation Company. An expert will and can help you determine where to put your TV – the perfect spot it would be.
Make Sure That Your Tv Will Be Mounted Correctly
When you allow an expert and professionals to do the entire job, you can be guaranteed that your television will be mounted correctly. Additionally, they will use the perfect and best TV bracket for your television. You can enjoy your TV without any hesitations.
Hide Visible Wires
Mounting a television is not just about what the best mount to use and how to install it correctly. Admittedly, those wires need to be hidden so that it will leave a clean appearance on the surrounding area and will not distract the viewers.
Provides Expert Recommendation
When you let experts handle the entire situation, you will also have their recommendations for the equipment – which is the best for your TV. With their guidance, you can totally enjoy the best experience out of your new television.
Get Your TV Bracket Installed With TV Brackets in Singapore
Installing a TV bracket might look simple, but sometimes, during the installation, there might be possible issues that will occur. We, at TV brackets Singapore, know how to solve it quickly and all our professionals have undergone numerous experience and have profound knowledge. Visit us at www.tvbracketsg.com  and avail our trusted packages when it comes to installing TV brackets. Let us professionally help you!