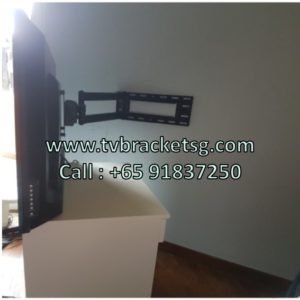 The TV plays an essential role in living rooms. Not because it is an important basis of entertainment but the impact it has on overall feel and aesthetics of the home. When people think about designing their living room, they take into contemplation how mounting of the TV will go like.
The entire TV space remains the major point of attraction and needs to echo your favored style and needs. It is the TV space that determines the look of your living room whether it is country, contemporary, futuristic, or urban. Here, a list of some of the popular wall mounting ideas for your modern TV.
Modern/Urban
Modern or Urban look generally incorporates neutral colors with some clean lines. The center of this kind of décor lies at minimalism with texture accents to give an edge. In this look, mounting of the TV needs to be on black or white wall with a tiny cabinet or shelves underneath it.
You can incorporate a few more colors like grey and brown to make it a bit colorful. You can even include your artistic streak in this urban style and go with things such as slanting shelves.
Country/Farmhouse
This look is based on airy and spacious spaces with some warm or natural colors to give it a homely feeling. Natural colors are the most important part of this country décor to highlight the country experience. You can opt for warm colors like brown, cream, and tan. Make use of these colors on the wall where you want to mount the TV set. Add a rustic filing cabinet beneath your TV or mount your TV above the fireplace.
Futuristic
It is an extreme adaptation of urban décor. The futuristic look takes minimalism on the other level as eliminating unnecessary things from the TV area. It emphasis more focus on lines and clean surfaces. Just use minimal storage around the wall mounted TV to create a futuristic look.
Busy
If you need a storage place then, the urban style would not work for you. In this case, you can go with a busy look. Here, you keep the TV area neat and clean but with storing things around it. This look involves shelves and a large cabinet beneath the wall mounted TV.
So, you can design your room based on these looks for a wall mounted TV. To give a clean look to your room, make use of our mounting services. Leave the professional work of a TV bracket in Singapore to professionals like us!