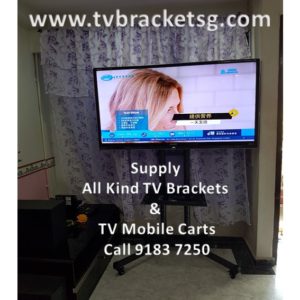 Figuring how to mount a TV can seem like an intimidating idea. And most of us already know why. There are television sets that are very bulky and there are TV mounts that can be bulkier. Sometimes, the instructions might also seem very complex. And the Samsung QLED TV is no different. While it may look very beautiful and sleek, you will need the correct wall mounts to install the appliance easily.
Keep the points below while choosing a place for your Samsung QLED:
When you are mounting your TV set, you need to remember three main factors: the viewing distance, the eye level, and the location. For the optimal TV viewing experience, you need to keep these measurements and ideas into consideration. As for the location, it is not just about the room, it is the wall as well. Remember not to position the QLED TV opposite a window to prevent potential glare.
Consider the best use of space for your QLED TV
The reason why you are purchasing a TV bracket for your television set is to free up floor space. Hence, if you are looking to free up some space in your room, a wall-mounted TV is the best option. With the best TV bracket, your QLED TV will sit neatly on your wall and will look seamless and clean with any type of interior décor.
Here is how you can wall mount a Samsung QLED TV with the help of a TV bracket:
Most people do not actually look forward to tasking themselves the work of mounting a television set on a TV bracket. But there is no need to worry. The whole procedure of fixing TV to the mount is very easy. All you need to do is follow the points below:
Install the TV bracket on the back of your Samsung QLED TV
Next, connect all the wires and power cable to the back of the television set
Fit the TV bracket on the wall. You can make use of the included guide. Make use of the measurements.
Once done, place the television on to the bracket and adjust the viewing angle according to your preferences
While setting up a Samsung QLED on a TV bracket is easy, do not worry if you are not getting a hang of it. In such cases, you can directly contact us for professional assistance. We will make sure that your QLED fits perfectly and safely on your wall for your viewing pleasure. You can also contact us if you face any other problems regarding your TV bracket in Singapore.