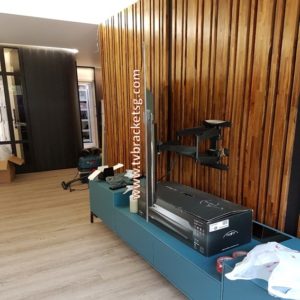 There are numerous tv bracket companies which you can hire to help you wall mount your tv on the wall. All have reviews on their site, comments on their social media accounts, and recommended by different people. But the main question is, how can you really tell if you have hired the best tv bracket company?
In Singapore, wall mounting the tv is a very popular thing to do. Not just because it's popular means that's the only reason why a lot of people do it. It provides benefits to you and your house. TV Bracket Singapore is one of the most trusted and reliable tv brackets anyone could hire.
Qualities of the Best TV Bracket Company
Admit it, there are a lot of tv bracket companies who claim to be the best but when it is on the actual work, the client undergoes a headache because of some issues or problems that these tv bracket company made. So, if you choose to wall mount or install your television and hire a company or a professional, make sure to know more about the company and if they possess the following traits and qualities:
Professionalism
You can easily know if the tv bracket company is a professional through their actions, way of thinking, talking abilities, and processes. And since TV Bracket Singapore was established, they provide a high-quality service among all their clients as well as providing trusted recommendations about such products that their clients need.
High-Quality Products
It is very easy to differentiate the materials or products which are low quality and high-quality ones. So, as a client, you need to be extra careful and observant about the products used by the tv bracket company.
People in the Company
In this part, you also need to be a keen observant. You need to observe how workers of the tv bracket company work, how fast do they accomplish the work, and of course, what is the quality of their work. Make sure that everyone shows workmanship to deliver quality service. Furthermore, everyone needs to have years of experience in tv bracket installation.
Price
Not all the best tv bracket company has an expensive price. You just have to look for a company that offers a reasonable price for every kind of service they provide.
Is TV Bracket in Singapore a Best TV Bracket Company?
Fortunately, yes. With years of experience in this field, TV Bracket in Singapore possess all the qualities of the best tv bracket company. In fact, there are lots of positive feedback and recommendations from their previous customers. So, if you are planning to install a tv bracket in your home, don't hesitate to contact TV Bracket in Singapore for high-quality service and a peace of mind.