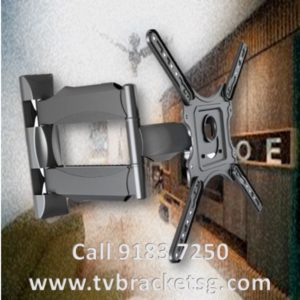 Going with the inflation of technology and the demand for beautiful homes and interiors, TV brackets have come to occupy a seat of importance among the customers in Singapore. TV brackets fit the interiors of neat homes, with stylish detailing. Also called a TV wall mount, it holds your TV suspended on a wall and leaves room for other furniture or décor.
While a lot of people in Singapore prefer getting a TV bracket installed by an expert, you can do it yourself at home too. However, a few safety measures should be kept in mind to avoid any accidents:
Always check the dimensions of your TV and then buy a TV bracket accordingly. Your TV bracket should have the capacity to hold the weight of your TV. If you have a big and heavier TV, go for a heavy-duty TV bracket that can bear that weight of TV's which might go up to about 48inches. Choosing a TV bracket that is lighter might not be able to hold your TV and it might fall and break.
Remember that your TV needs to be placed away from the sunlight otherwise it might create problems in the functioning of your TV. It might also hinder your view because of the sun's rays.
Fit the TV bracket at a height which will not require you to unnecessarily strain your neck or back.
Be careful while drilling holes in the wall to fit your TV bracket and avoid accidents. If you are not comfortable doing the drilling yourself, consult a person who has expertise in the field.
Take precautions while placing or hiding the wires. You would not want the wires to hang outside the frame and this might leave your wall looking untidy.
Double check the distance of the holes that you want on the wall to avoid spoiling your beautiful indoors.
Before setting up the TV bracket, have longer wires handy. If the wires are too long, they can be hidden but if they are short, your bracket might fall off from the pull of the wires.
Before finishing up the process, give slight tugs to your TV to ensure that it is secured tightly and won't fall off.
Above mentioned guidelines are a must to ensure a safe installation but always read up your installation guide properly that come with any TV bracket that you buy in Singapore. We wish you a safe experience and we sincerely hope that this short guide has been useful to you.