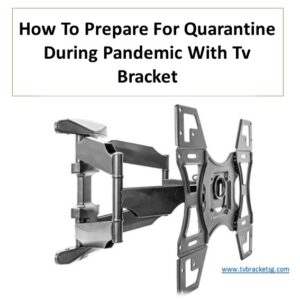 The pandemic has had a very disheartening effect on all of us. Since the advent of COVID-19, so many measures have been taken to help prevent the spread of the virus. However, one of the most heartbreaking measures taken for most people was the lockdown. Everyone was subjected to staying indoors.
Majorly, most of the activities that added color to the lives of individuals were stopped. One of which is visiting the cinema. Almost everyone has a TV in their home but will all know that cinema provides a better TV experience.
How can one get this cinematic experience within the comfort of their home? The answer is TV brackets. TV brackets provides the same cinematic experience, you'd get in the cinema. By mounting your TV using a TV brackets, zoom meetings, TV series and movies during the quarantine are easily enjoyed.
A very good service to patronize for installation of your TV brackets is TV brackets in Singapore. Our products are very affordable and can be easily fixed by anyone. However, to ensure that it is properly fixed, you can contact us for services.
What Is Tv Mounting?
TV mounting is the process of fixing a TV (especially flat screen TVs) on the wall, using installed TV brackets. Users of TV bracket can get a full cinematic experience without having to visit the cinema.
Neck pains generated from watching Television from TV stands are avoided. Because, most TV mounts are adjustable. With TV mounts you get to experience fully fledged viewing experience.
Every Television set requires a specific kind of TV bracket. That is why not just anyone should install them in your home. TV bracket in Singapore promises professionalism and even more.
TV bracket in Singapore can install any size of TV sets. The sizes includes; 24 inches, 32 inches, 40 inches, 43 inches, 46 inches, 55 inches and all other sizes. Our installation services promises stability, balance and symmetry.
Importance Of Tv Mounting
The importance of TV mounting cannot be overemphasized. In mounting TV's, TV BRACKET IN SINGAPORE sees to it that their customers gain all the benefits associated with TV mounts. Written below are some importance of TV bracket.
Use of TV brackets or mounts protects your TV from imminent damage. Any sort of damage can occur, especially for flat screen TVs: it can fall from any light push. Imagine a house full of children with a TV without mount, automatically that TV is endangered.
Therefore, mounting your TV is important because it keeps it out of the reach of kids and away from danger. It will also prevent incurred cost for a new TV as a result of carelessness.
With TV mounting, a lot of home space is saved. Yes, it saves bigger space than a TV stand because it is mounted on the wall. With a TV bracket in Singapore mounted in your home, you can now host parties in your home, conveniently.
Another advantage is that it is relatively cheaper than TV stands. If you go into the market to come both, you would find the difference in cost. The difference might be small, but a TV mount will help you save cost.
TV mounts are modifiable. You can adjust the TV mounts to any direction of your choosing. Let's say for example the rays of the sun is incident on your TV screen and is disrupting your view. You can conveniently move the mount to face a direction without the sun. This in turn improves viewing experience.
Asides just mounting TVs, our services includes hiding cables from visible eyes. The cables are tucked in, thereby, preventing tangling of cables. It also improves the aesthetics of your home. So much so that the beauty of your home decoration is not tampered with.
Why You Should Patronize Tv Brackets In Singapore
The reasons why you should patronize us are not far-fetched. We deliver premium services to all our customers. All our workers are professionals and very experienced. Our services are not limited to a particular TV size.
We fix any type of TV mount and TV size without any issues. So, you don't have to be afraid of getting a subpar work. Even if we encounter problems during installation, be rest assured that it would be taken care of.
TV brackets in Singapore have been in the TV mount business for over six years, and not once have we received a bad review. Most freelance companies are not registered, hence, trusting them can be difficult.
With us, the trust barrier is broken because, we are a trusted and very reliable registered company. Our services are available any day at your own convenient.
Trust me when I say we offer the best customer services. We are very patient with customers and are more than willing to work at any time of your choosing. Almost every home uses a flat screen TV, let us help you safeguard that TV whilst saving cost.
For inquiries about our services, contact TV bracket in Singapore via call or message +65 9183 7250. Or you can just send an email to enquiry.tvbracketsg@gmail.com. We anticipate your patronage and will be happy to work for you.