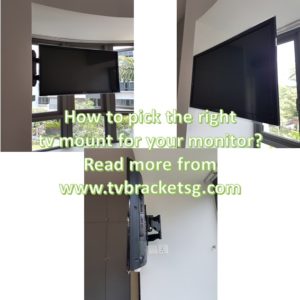 As a company  , giving you quality counsel is a piece of our duty. We  guarantee that you get the best proficient administration in all the installations you make. Each office currently possesses a monitor. Now and again, only one out of every odd officer in the workplace probably won't possess one at their desk, yet there's as yet a monitor accessible.
The issue of picking a good mount for your office setting is the problem we would like to erase when you're finished reading this article. Your workstation is a standout among the essential parts of your day by day work, particularly in case you're one of a great many individuals out there who go through the more significant part of their days working before the PC screen. Along these lines, it is important to keep it as the most comfortable and helpful spot for working. We should go on and help you decide the proper setup for your monitor.
Step 1: What is your monitor size? This inquiry is fundamental in picking the correct mount. It's important to know how much your monitor because creative monitor arms are for the most part constrained by a gas cylinder inside the arm, and it is important to realize the monitor weight to pick the correct gas cylinder.
Step 2: Do you need a single or dual  monitor mount? In offices where there is more than one monitor for a specific surface, it is better to acquire a dual-monitor mount. Our monitor mount comes in these two alternatives as well.
Step 3: You must ensure your monitors are VESA compatible; if you're planning to install a dual monitor mount, this factor is essential. Your monitor should be VESA compatible. This implies having standard mounting holes bored into the back. These holes are commonly drilled into the steel edge of the monitor itself, taking into consideration any monitor mount to be used. VESA 100 (with a square gap design 100mm wide on each side) is the standard. However, some monitors of over 35 inches may have bigger requirements.
Step 4: Is the monitor for individual use or shared usage? Not every organization has the ability to afford monitors for every staff, or in some cases not every staff in some organizations requires consistent use of a monitor. Some would only require them periodically. In such cases, organizations would usually opt to use a sharing system that allows several workers to use the same PC. Organizations in the financial industry or laboratories for example have a different type of installation requirements especially when you want to monitor several events at the same time. These factors play a key role in picking a monitor mount.
Step 5: Monitor usage plan. How exactly do you plan to use the monitor should be considered in selecting a monitor mount. Do you plan to sit daily in front of the screen or do you plan to use the monitor periodically. In situations where you would be expected to work long hours before your screen, it is advisable to select a monitor mount that would enable you work from a variety of positions.
Finally, the decision to choose a monitor mount is not new to the work environment. Even increasingly is the fact that we're beginning to have more flexible work options. These steps are not just applicable in the office alone but also at home or in whichever location you decide you need a monitor mount.  We do have all kind tv brackets install on the wall as well.
At TV bracket Singapore  , our monitor stand can handle a screen of 17″-27″, and support load from 4.4 to 14.3 lbs. (2 – 6.5 kg) *per arm* (on account of dual-mounting). With our mounting framework, you get the choice of a 360° rotation and a swivel of: 180°+. Furthermore, our mount is a semi-perpetual mount that occupies an insignificant room on your desk; a through-the-desk mount may very well work. These stands use a single, substantial jolt that experiences an opening in the desk to verify the weight of both the stand and the monitor. Normally, this restricts your choices, as you'll have to either bore your very own opening or have a desk with a current one, similar to a standard cable administration grommet gap.