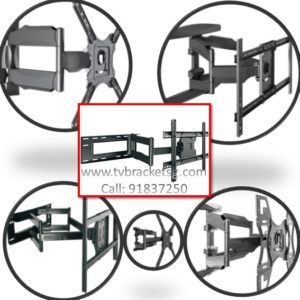 Sometimes having to first of all find the studs on the wall can be a process with no end and this restricts people to opt for the option of mounting the TV brackets without using the studs. If you are new to this, at first, you may be scared because it seems to be complicated, but it is not, you will find out why.
Step 1# attach the brackets to the TV
This is the first step in this process. Making going ahead to make any holes in the wall, the first thing that you need to do is properly attaching the brackets to the TV. Do not worry about this step as most of the kits will come with the necessary tools that you need for thi process. When attaching the brackets, you need to make sure to follow or find the 4 holes, take your brackets and line them up on the bolt. They need to be equidistant from each other.
Step 2# determine where the TV will hang
The second step is taking the measurement from where the bracket is to touch the mount that is to be fixed on the wall, to the bottom part of the TV. This is vital as it will help you know where the TV will be located on the walls.
Step 3# trace the holes in the mount
In this step, you need to hold the mount against the wall and use the pencil to trace the holes of the mounts. Remove the mount from the wall with the marks on a wall that will denote where the holes in the mount are.
Step 4# drill the holes into the wall
Based on the measurement and the measured location of your TV drill the holes into the wall which you will use to later on attach the mount. Once the first hole has been drilled into the wall, use the level to make sure that the next hole is horizontally even with the one you just drilled. Unless you want your TV to hang in a slanted manner, use the level for proper alignment.
Step 5# install the TV on the mounts
There are the hooks on top of the brackets which you will use to attach to the back of the TV. It is pretty simple task as all that are required to do fix the two components of the Brackets.
Following this simple guideline, you will be able to mount your TV brackets in Singapore without the need of the studs.  However, it is still better to get our professional installer to mount it for you.